Remains of 19th century Chinese laborers found in Peru
China Daily | Updated: 2017-08-26 07:19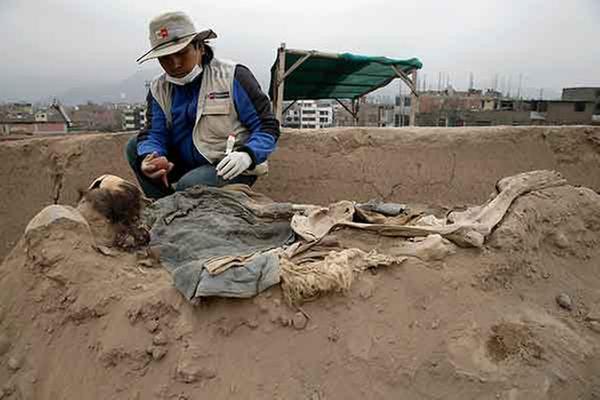 An archaeologist works at the site where 16 tombs belonging to 19th century Chinese laborers were discovered in Lima, Peru, on Thursday. MARTIN MEJIA/ASSOCIATED PRESS
LIMA - Archaeologists exploring Peru's pre-Colombian past recently unearthed a glimpse of a less prominent chapter in the Andean country's history - the remains of 16 Chinese laborers who toiled in the country more than 100 years ago.
The secret tomb is the biggest burial site of Chinese migrants found in Peru.
The bodies, thought to be those of indentured workers brought to Peru to replace slave labor, were found buried at the top of an adobe pyramid first used by the ancient Ichma people, said Roxana Gomez, the lead archaeologist of the site, on Thursday.
Peru was one of the biggest destinations for Chinese labor in Latin America in the 19th century, a market that thrived after slavery was abolished in the country in 1854. As many as 100,000 Chinese migrants arrived to Peru in the second half of the 19th century and performed backbreaking work on farms, building railroads and removing guano, which is bird excrement coveted as fertilizer.
The Chinese found at the Bellavista pyramid in Lima were buried in the late 1800s and early 1900s and had likely picked cotton at a nearby plantation in "very difficult" conditions, Gomez said.
In a possible sign of how the Chinese gradually emerged from dire poverty in Peru, the first 11 bodies were shrouded in cloth and placed in the ground, while the last five wore blue-green jackets and were buried in wooden coffins.
"In one coffin, an opium pipe and a small ceramic vessel were included in the funerary ensemble," Gomez said.
Chinese laborers were generally not allowed to be buried at Lima's Catholic cemeteries, forcing them to improvise burial sites, according to Peru's Culture Ministry.
The remains of these laborers were previously found in Lima at other adobe pyramids known as huacas. Built by the indigenous societies that once ruled much of Peru's Pacific coast, huacas were used as administrative and religious centers where members of the elite were often buried with gold objects, ceramics or human sacrifices.
Gomez said the huacas had a sacred association that might have made them attractive places for burial by Chinese laborers.
The Bellavista huaca was occupied by Ichma starting in about 1000 AD and was later annexed by the Incan empire until the arrival of Spanish conquerors who deemed huacas blasphemous.
Italian immigrants later kept vineyards at the base of the site, Gomez added.
"The best way to understand our history is as a continuum of different cultures," Gomez said.
Reuters - Ap