Beijing hospital opens biggest parking space and launches helicopter service
By Chen Ziyan and Zhu Xingxin | chinadaily.com.cn | Updated: 2017-08-29 17:00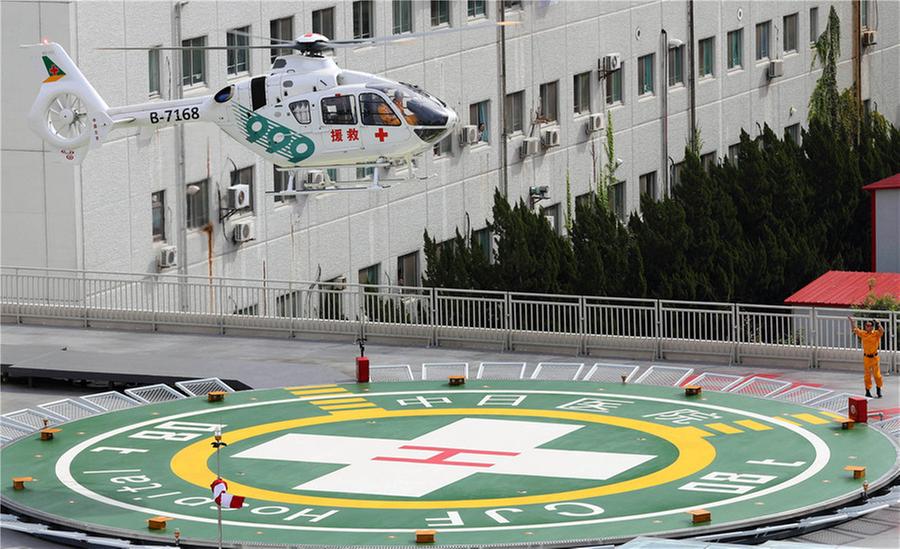 A helicopter is landing at China-Japan Friendship Hospital in Beijing, Aug 29, 2017. [Photo by Zhu Xingxin/China Daily]
China-Japan Friendship Hospital in Beijing inaugurated a multi-storey parking facility to help alleviate parking problems, as well as to provide better air rescue services.
A launch ceremony was held on Tuesday in the hospital, after two helicopters from Beijing Emergency Medical Center and 999 Emergency Rescue Center arrived at the hospital.
The newly built parking complex is a four-storey building equipped with automatic system which allows smart-parking. Apart from the top floor for ambulance helicopters, it also has enough space for 369 vehicles.
It has the largest ground parking space of any hospital in Beijing. The parking apron on top of the building is also a 24-hour rescue platform which means emergency work can be carried out during night-time too.
With the opening up of low-attitude airspace in China, helicopters are gradually playing an important role in air medical rescue, especially during an emergency situation.