American in Beijing lives his Chinese dream
Xinhua/chinadaily.com.cn | Updated: 2017-08-31 08:54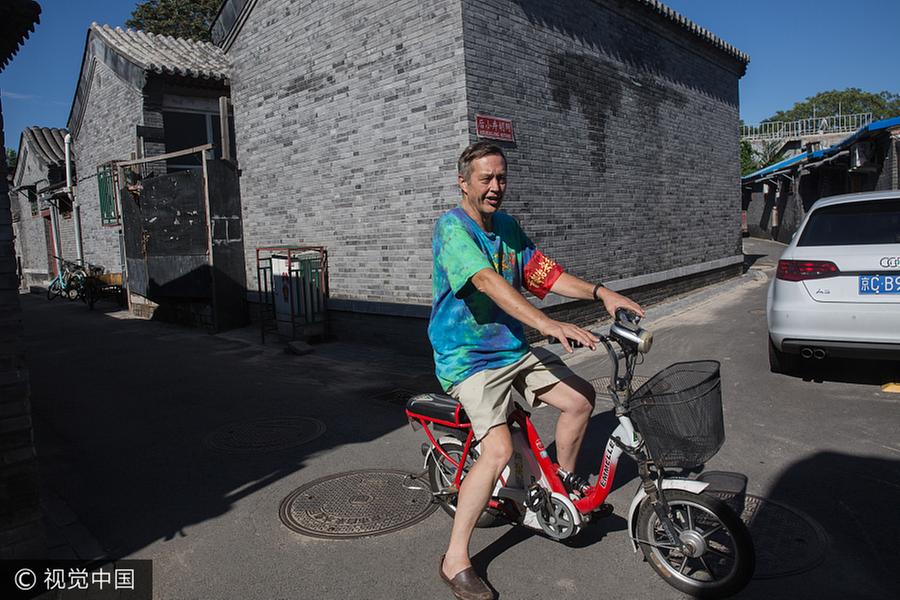 Crossman prepares to launch a patrol in a hutong.[Photo/VCG]
At 18, he took a cargo ship to Taiwan to learn Chinese. On the ship the captain suggested that he should have a Chinese name.
"He named me Gao Tianrui, based on the pronunciation of my English name," he said.
After Taiwan he worked in several places, including New York, Singapore and a 12-year stint in Hong Kong.
Crossman first came to the Chinese mainland in 1981, when he went to Shanghai and Suzhou in Jiangsu province.
"Wherever I went, I had at least 30 people following me, asking about Hong Kong, how much I earned and how I felt about the victory of the Chinese women's volleyball team," he said. In 1981, the Chinese women's volleyball team won the world championship for the first time.
His first visit to Beijing was six years later on business. "There were few cars and lots of bicycles on the roads."
Crossman and his family moved to Beijing in 1997, when the traffic was heavier and the city busier. "There were only two subway lines, with no air conditioning," he said.
Since then he has lived and worked in Beijing.
His parents separated when he was young, and he lived in many different places in the US, so he never felt like he had a regular home there.