American in Beijing lives his Chinese dream
Xinhua/chinadaily.com.cn | Updated: 2017-08-31 08:54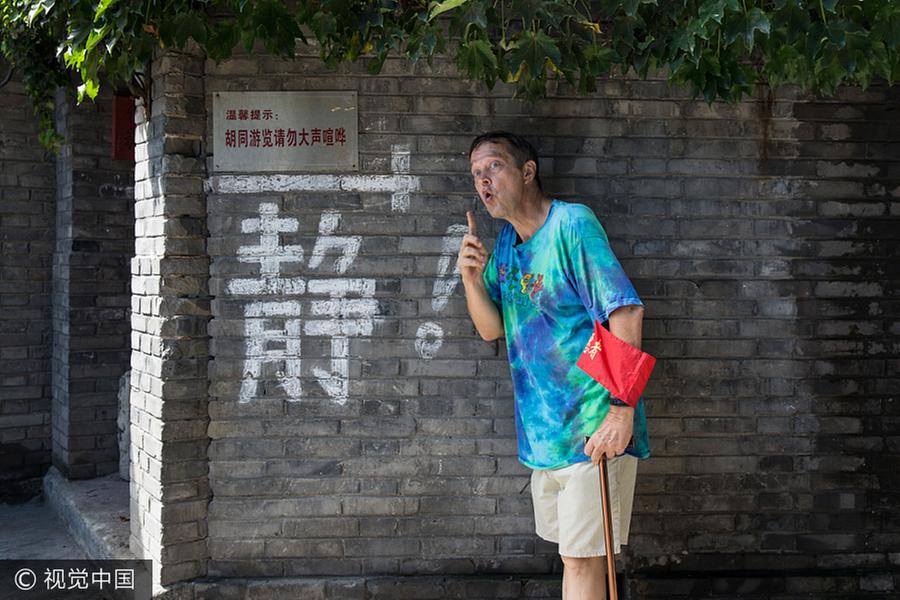 Crossman patrols a hutong in Beijing.[Photo/VCG]
"I had no hometown in the United States," he said. "Your home is where your things are. In this sense, Beijing is my home."
Crossman can make traditional Beijing bean-paste noodles, and when he goes to a restaurant, he orders dumplings, mashed eggplant and fermented bean curd, a traditional Beijing dish.
He can often be found chatting with local people, especially taxi drivers.
"I am more familiar with the lives of taxi drivers than most Beijingers," he said. "When I see their license numbers, I can tell how many years they have worked."
With the taxi drivers, he cannot resist talking about politics, sport and the economy.
"They are so knowledgeable," he said. "I learned many Chinese NBA words from them."
During his leisure time, Crossman teaches people English. Currently he is helping employees at a cafe near his home, telling them how to say useful words such as "set meal" and "discount".
In March, Crossman met Liu Xiaoxia. Liu is in charge of a volunteer organization named Lanlifang (Blue Cube) and helped Crossman get into volunteering.
"I was afraid of foreigners in the past because some of them had a bias against China," Liu said. "Lao Gao was different. He is warmhearted and jovial." She calls Crossman Lao Gao, his Chinese nickname.
Liu was making a video to promote her organization, and invited Crossman to join in.