New carp species to extend scale of GM produce
By ZHANG ZHIHAO | China Daily | Updated: 2017-09-14 06:42
Scientists say the development will provide more resources and help to strengthen food security, as Zhang Zhihao reports.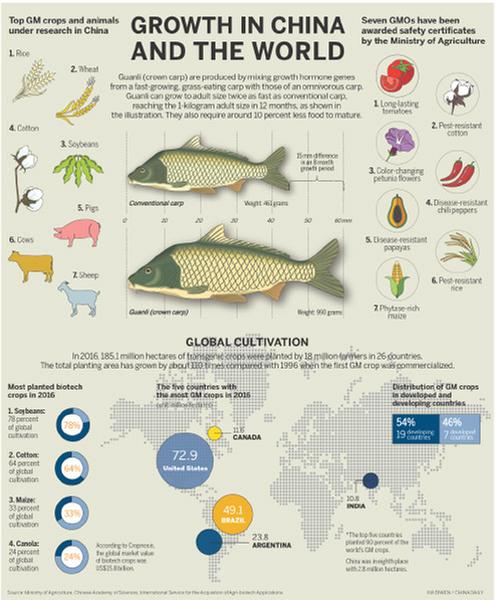 [Infographic by XIA DIWEN/CHINA DAILY]
While giant genetically modified Chinese carp may leap onto the nation's dinner tables in about two years, scientists are urging that the promotion of GM fish should be conducted slowly and meticulously to avoid a public pushback.
The development of GM fish will have great economic value, protect national food security and help build sustainable agriculture, according to Wang Yaping, a researcher at the Chinese Academy of Sciences' Institute of Hydrobiology, speaking in an exclusive interview with China Daily.
In early August, Canadian supermarkets became the first in the world to sell a fast-growing GM salmon developed by AquaBounty Technologies, a biotech company in the US.
However, few people realize that in 1983 China was the first country to produce transgenic fish called guanli, or "crown carp", said Wang, one of the lead scientists behind the carp's development.
The fish has passed all the nutritional, toxicology and allergen tests conducted by the China National Center for Food Safety Risk Assessment. It is now undergoing ecological tests to determine how it interacts with other species in the wild, along with commercial production tests to pinpoint how effectively it can be mass produced.
When the tests have been completed, the Ministry of Agriculture and other regulatory bodies are likely to issue a final safety certificate that will allow the fish to be sold on the domestic market.
"So far, there has been no indication of negative effects on health or the environment," Wang said. "If all goes well, crown carp will be on dinner tables within two to five years."