Agreement near on heavy-lift helicopter
By Zhao Lei in Tianjin | China Daily | Updated: 2017-09-14 07:31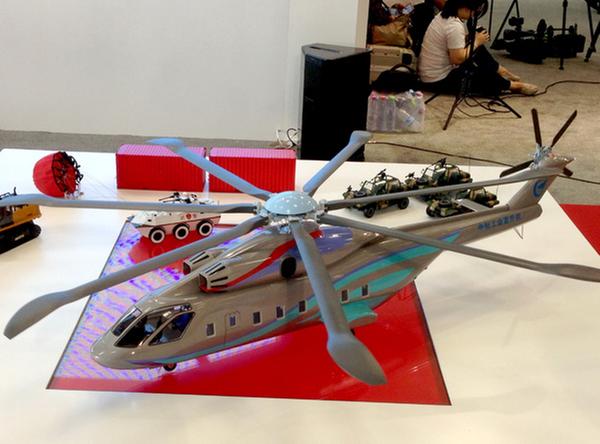 Model of the heavy-lift helicopter to be jointly developed by China and Russia.[Photo provided to China Daily]
China, Russia in final stages of talks to jointly produce aerial workhorse
China and Russia are close to inking a cooperation agreement on the joint development and production of a heavy-lift helicopter, according to a senior Chinese helicopter designer.
Aviation Industry Corp of China, the State-owned aircraft giant, and Russian Helicopters, Russia's only helicopter manufacturer, have had 17 rounds of talks on the subject. All of the technological requirements, work assignments, collaboration methods and schedules have been finalized, said Huang Chuanyue, deputy chief engineer at Avicopter, AVIC's helicopter branch.
"Our talks are in the final stage. The helicopter will be jointly developed and manufactured. The research, development and assembly will be in China, while the production of some key parts will be in Russia," Huang told reporters on the sidelines of the 2017 China Helicopter Development Forum in Tianjin.
More than 300 government officials, company representatives and experts in the helicopter industry took part in the event, which was hosted by AVIC and the Tianjin government.
Huang said the new helicopter's technologies will be unique compared with other heavy-lift models in the world because it will be designed completely in accordance with China's requirements and geographic conditions.
"China has multiple landforms including plateaus, mountainous regions and plains, so the helicopter must be able to operate in every landform. Foreign helicopters have not met our needs, especially those in plateaus and mountains," he said.
This is very important because China has vast plateau areas and mountainous terrain, as well as many islands that are difficult to access by other means. That has been an extremely serious problem because China is often hit by natural disasters, the designer said, adding that the helicopter will also be of value for building infrastructure in mountainous terrain and on islands.
Huang noted that it will be more robust than all other helicopters in China in terms of carrying capacity.
"It will be capable of taking 10 metric tons of cargo, or more than 100 people inside the cabin, or carry 15 tons of freight in an external sling. By comparison, the AC313, currently the strongest type, can carry four tons inside the cabin or lift five tons outside the body," he said.
According to AVIC, the helicopter will have a maximum takeoff weight of 38.2 metric tons and a maximum cruising speed of 300 kilometers per hour. It will be capable of flying at altitudes up to 5,700 meters and have a range of 630 km.
Currently, heavy-lift helicopters in use include the United States' Boeing CH-47 Chinook, the Sikorsky CH-53E Super Stallion and Russia's Mil Mi-26 series. The US and Russia continue to upgrade these types and aspire to maintain their dominance of the heavy-lift helicopter market, observers said.