Geological worker 'ready for hardship, happy to contribute'
By HOU LIQIANG/DAQIONG | China Daily | Updated: 2017-09-30 07:02
Editor's note: As the 19th National Congress of the Communist Party of China nears, a total of 2,287 delegates to the event have been elected. They come from all walks of life, with a large proportion having made a special contribution in their jobs. This is the first in a series of reports focusing on the delegates' stories.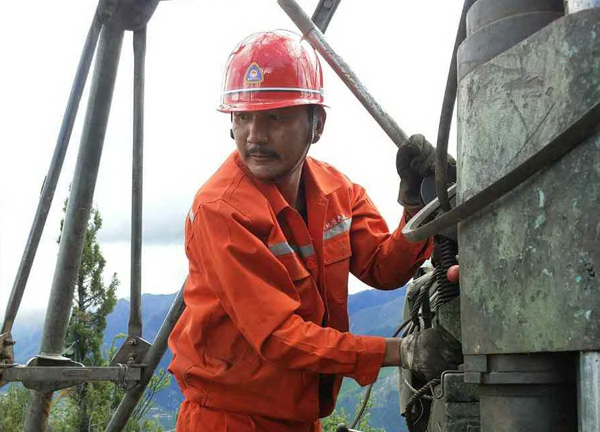 Jampa Tashi operates a machine during a field survey in the Tibet autonomous region. [Photo/CHINA DAILY]
Most people have difficulty reaching an altitude of 5,000 meters. For Jampa Tashi, a delegate to the 19th National Congress of the Communist Party of China, however, he has even more to bear as a driller.
Every year, the 45-year-old from the Geological Survey of Tibet spends six to eight months above that altitude, working 12 hours a day, six days a week.
Each time Jampa Tashi, who joined the Party in 2007, heads to a new workplace, he has to be well prepared. His truck, which is loaded with more than 10 metric tons of drilling equipment for mining and geological surveys, often has to wind across terrain with no roads.
In the rainy season, vehicles can easily get bogged down. Once in the 1990s, Jampa Tashi and his colleagues only managed to pull out their trapped truck after seven days.
"Our big tent, which is used as shelter in the workplace, was under some heavy equipment and we couldn't get it out. We had to sleep in the open air. When it rained, we used a plastic sheet to set up a shelter," he recalled.
It can be hard to pull the vehicle out in some areas of northern Tibet, as it's difficult to find stones big enough to give the wheels solid ground.
When trapped, he and his colleagues could eat only biscuits, bread and preserved vegetables, as they may be unable to find dry wood to start a fire to cook.
He said the working conditions have improved in recent years as they can watch TV thanks to a satellite dish they are equipped with.
But they can only receive two channels, and the dish is often shaken by strong winds, resulting in unclear pictures.
"There used to be no entertainment in the workplace at all. We were often hours away by car from the nearest township. All we could do is sleep when resting," he said.
However, he has to limit his TV watching to less than one hour to ensure he gets enough rest for the next 12 hours of work.
"Adjusting the technical parameters for the drilling facility requires a lot of concentration. We have to keep our eyes on it and can seldom leave," he said.
When Jampa Tashi's father passed away in 1996, he chose to stay at work instead of going back to his hometown in Chamdo about 1,200 kilometers away. He even kept his father's death a secret to his company.
"From mid-June to mid-August is the best time for drilling. Work is hard once the ground freezes in winter. If one worker leaves, the work is difficult to continue," he said.
Working at a high altitude has caused him hypertension, which often leaves his eyes bloodshot and has damaged his middle ear.
"I can't clearly see messages on my phone and have to enlarge the font to read them," he said.
However, he has decided to continue.
"As a Party member, I should be ready for hardships and be happy to contribute, or I will feel sorry to be called a Party member," he said.