Trump calls Las Vegas shooter 'sick' and 'demented man'
chinadaily.com.cn | Updated: 2017-10-03 23:37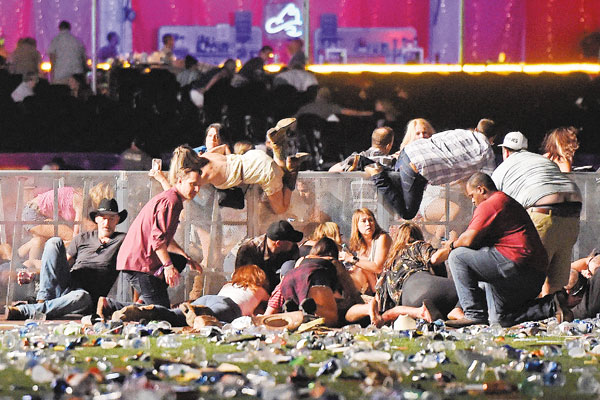 Concertgoers scramble for shelter at the Route 91 country music festival after gunfire breaks out on Sunday in Las Vegas, Nevada. [Photo/Agencies]
US President Donald Trump on Tuesday called the gunman who killed 59 people and wounded hundreds others at a music festival in Las Vegas a "very, very sick individual".
Trump spoke to reporters as he departed for a trip to hurricane-ravaged Puerto Rico. He called the gunman "demented" and said "we're looking into him very seriously", the Associated Press reported on Tuesday.
Trump also praised Las Vegas police, saying they had done an "incredible job".
Asked about gun laws, the president said, "We'll be talking about gun laws as time goes by," the AP reported.
Trump has labeled the Sunday night shooting at an outdoor music festival an "act of pure evil" and declared the nation would unite behind the survivors.