No Chinese casualties in Las Vegas mass shooting: official
Xinhua | Updated: 2017-10-04 20:54
LAS VEGAS, the United States - The Consulate General of China in San Francisco confirmed on Tuesday that there have been no reports of casualties of Chinese citizens in the Las Vegas mass shooting.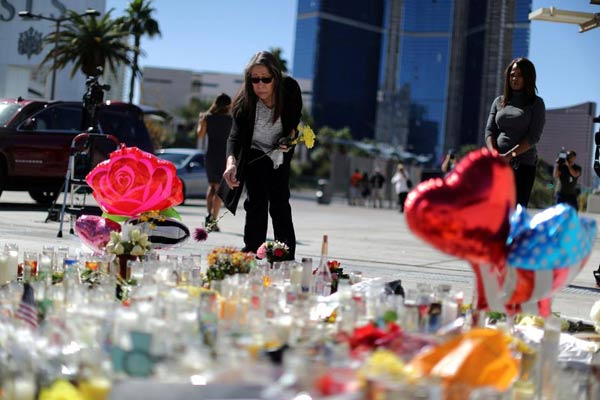 A woman leaves flowers at a makeshift memorial on the Las Vegas Strip for victims of the Route 91 music festival mass shooting next to the Mandalay Bay Resort and Casino in Las Vegas, Nevada, US October 3, 2017. [Photo/Agencies]
To protect the safety of Chinese citizens abroad, a working team of the Consulate-General of China in San Francisco arrived in Las Vegas on Monday, only hours after the deadliest mass shootings in modern American history, which left at least 59 people dead and about 527 others injured.
"It is our diplomats' duty," said Zha Liyou, Deputy Consul General of the People's Republic of China in San Francisco, who lead the working team.
The team has contacted local governments in Las Vegas and Clark County, visited hospitals caring for the wounded from the shooting, cooperated with the Las Vegas Metropolitan Police Department (LVMDP) as well as the Clark County's emergency operation center and the crisis command center in Las Vegas.
To collect information of Chinese citizens in the city, the working team also visited local Chinese communities and spoke with travel agencies who are running Chinese tourist groups with the help of China's National Tourism Administration.
"So far, we have received no call or message for help from Chinese nationals," said Zha. "We haven't received any request for help from Chinese citizens via the Consular Protection 24-hour hotline, messaging platform or the hugely popular social-messaging platform WeChat."
In recent years, more and more Chinese tourists have traveled to the United States. According to the United Nations World Tourism Organization, the number of global travelers will exceed 1.8 billion by 2030. China is considered the world's fastest growing tourism market and will play a key role in the sector's development.
In the first two days of China's National Day holiday which runs from Oct. 1 to 8, China reported double-digit growth in tourism revenue.
Zha also provided many practical suggestions for Chinese tourists coming to the United States.
"First, it's better to avoid some places, such as large gatherings of people," which provide attractive targets to those who wish to carry out an attack, he said.
"Chinese people are not used to places where public ownership of guns is legal," Zha added.