1 killed, 20,000 evacuated by wildfires in Northern California
Xinhua | Updated: 2017-10-10 09:18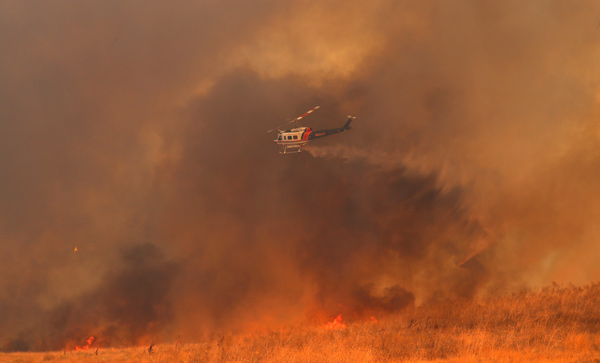 A helicopter drops water on a wind driven wildfire in Orange, California, US, October 9, 2017. [Photo/Agencies]
LOS ANGELES - More than 14 fires ripped through eight counties in Northern California. Till Monday noon, it has killed 1, serious injured 2, destroyed at least 1,500 structures and forced 20,000 people to be evacuated.
California Governor Jerry Brown issued Monday an emergency proclamation for Napa, Sonoma and Yuba counties due to the effects of multiple fires, including the Tubbs and Atlas fires, which have damaged critical infrastructure, threatened thousands of homes and caused the evacuation of residents.
"There are a lot of evacuations and closures going on throughout the valley. We are trying to just keep the roads clear for the firetrucks to get through. Because there are only two-lane roads through the valley. Smoke is everywhere. The smoke is very thick and very dangerous." John Taylor, the testing room manager of Yao Family Wines told Xinhua.
"We will be closed until further notice until we see how these fires go." Taylor said, adding that "It's only ten miles (17 kilometers) away from the closest fire. I have gone. I am not there."
"Yes, it's smoky, and the air quality is poor." Kelli Cox, a resident of Napa city, located 5 miles (8.5 kilometers) from the nearest fire scene, told Xinhua in a telephone conversation, adding "we are leaving now to head South, we are leaving voluntarily in about 10 minutes".
According to information updated Monday noon by California Department of Forestry and Fire Protection (Cal Fire), in Mendocino County, one person was killed, 2 people were seriously injured in Redwood Complex Fire which has burned 10,000 acres (40.5 square kilometers). More than 400 crews are fighting the wildfire.
Cal Fire also reported that all wildfires had totally scorched to more than 60,000 acres (242.9 square kilometers) Monday, among which, the Tubbs burned 25,000 acres (101.2 square kilometers), the Atlas Fire 25,000 acres (101.2 square kilometers) and the Patrick Fire 2,000 acres (8.1 square kilometers). All of the the three fires occurred in Napa country have no containment.
Cal Fire Director Ken Pimlott was quoted by Sacramento Bee as saying that most of the fires started at about 10 p.m. Sunday and their causes are under investigation. He said firefighters are concentrating on saving lives rather than battling the blazes.
California Highway Patrol said it's Golden Gate Division Air Operations rescued 42 people ranging from 5 years old to 91 years old from the wildfires and the rescue operations are continuing.
The city of Santa Rosa, Sonama County, has been particularly hard hit.
Photos posted online by local residents showed that numerous buildings are on fire in downtown, including the Hilton Sonoma hotel and a K-Mart, while Sutter Hospital and Kaiser Hospital in the city "are no longer operational and patients have been evacuated."
In a related development, a raged wildfire erupted Monday noon near Los Angeles threatening more than 1,000 houses and forced about 200 residents to be evacuated.
According to information updated by Anaheim Fire and Rescue Dept, the wildfire with code CanyonFire 2 scorched to 500 acres in three hours since from the authority received first report 10:20 am Monday.
Then the evacuation order was applied to the area, located 50 miles (85 kilometers) east of the Los Angeles downtown.
"If you are home, leave now. For your safety access to the area is not allowed at this time" Anaheim Fire and Rescue Dept tweeted on it's official page, adding that "Evacuees can go to downtown Anaheim Community Center."
While, Orange County Fire Authority Public Information Officer Larry Kurz disclosed on his twitter page that the wildfire had jump to 2,000 acres with zero containment.
More than 200 firefighters are on scene, Kurz said, 6 helicopters and 6 fixed wing aircraft are helping the crews on the ground.
KTLA news channel said the fire erupted during the fall's first significant blast of Santa Ana winds, the seasonal gusts linked to some of Southern California's worst wildfires.