Spending less time on internet could reduce depression
By Cai Hong | China Daily | Updated: 2017-11-20 09:57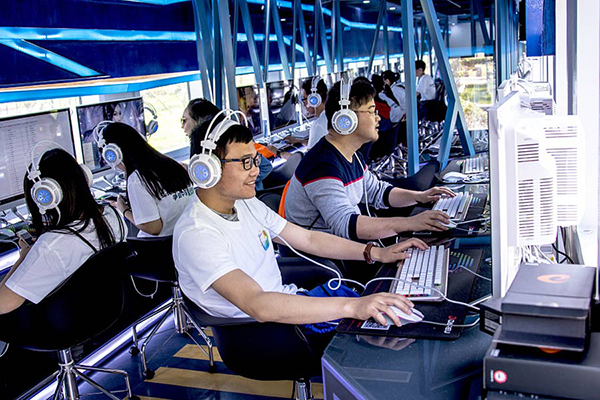 Eight young Japanese women-three of them high school students-spoke through Twitter about their depression or intention to die. Their tweets caught the attention of Takahiro Shiraishi who tweeted back "let's die together", saying he, as a "hanging pro", could assist people to commit suicide. He has admitted that he invited them, one by one, to his apartment between late August and mid-October, and killed and dismembered them all. A young man who went to his apartment looking for one of those women met the same fate at Shiraishi's hands.
Details of the serial killing, which have already left Japanese people shell-shocked, are still coming. The way Shiraishi preyed on the victims lays bare the dark aspects of social networking services.
Japanese Chief Cabinet Secretary Yoshihide Suga described the use of Twitter to exploit suicide-prone people's cries for help as "despicable". The Japanese government responded to Shiraishi's case with a vow to crack down on websites where people seek advice on how to commit suicide or find people to die with. Shiraishi had constantly accessed such websites, and his cellphone records show he had searched online to get information on how to dismember a human body.
For this article, I searched the word "suicide" on a website in Japanese. Many of them gave detailed instructions on how to commit suicide, including by hanging and burning charcoal. And quite a few suggested suicide is a positive solution to people's problems, even a spiritual release to their pain and struggle.
That the intention of such websites is malicious is clear, as suicide should never be encouraged. Japan has the highest suicide rate among the G7 countries, with more than 20,000 people killing themselves every year. A survey conducted by Nippon Foundation last year showed that more than 530,000 people attempted suicide in 2015. A more frightening fact lies in the white paper released by the Japanese government in May, which said suicide is the leading cause of death among people aged between 15 and 39 in the country, ahead of accidents and cancers.
In the virtual realm of the internet and social media, many depressed, lonesome people, teens in particular, feel they can open up to strangers. They reveal their honest thoughts, and their online "buddies" reciprocate. This deludes them into thinking they have finally found their true "soulmates".
But those who post suicidal messages on SNS, experts say, do not really want to die.
Shiraishi has proven the experts right. He told the investigators that when he met the eight women they wanted him to listen to them. "None of them wanted to die," he said.
Despite web-related issues such as cyberbullying, "sexting" and internet predators, we don't have all the answers. But a new study by San Diego State University researchers in the United States gives one clue: increased time spent in front of a screen-in the form of computers, cellphones or tablets-might have contributed to an uptick in depression and suicide-related behavior and thoughts in young people, especially girls, in the US. The findings, published in the journal Clinical Psychological Science this month, point to the need for parents to monitor how much time their children are spending in front of media screens.
Limiting screen time to one or two hours a day, as the university's professor of psychology Jean Twenge said, would statistically fall into the safe zone for device usage. On the positive side, the researchers found that spending time away from screen and engaging in person-to-person social interaction, sports and exercise, doing homework, attending religious services was linked to having fewer depressive symptoms and suicide-related outcomes.
It is almost impossible to block all the pro-suicide websites and delete all hashtags for suicides on social media. But San Diego State University's studies may offer some food for thought for parents, educators and authorities as they are deliberating on how to improve the mental well-being of young people.
The author is China Daily Tokyo bureau chief. caihong@chinadaily.com.cn