Nanny sentenced to death makes appeal
chinadaily.com.cn | Updated: 2018-02-24 17:50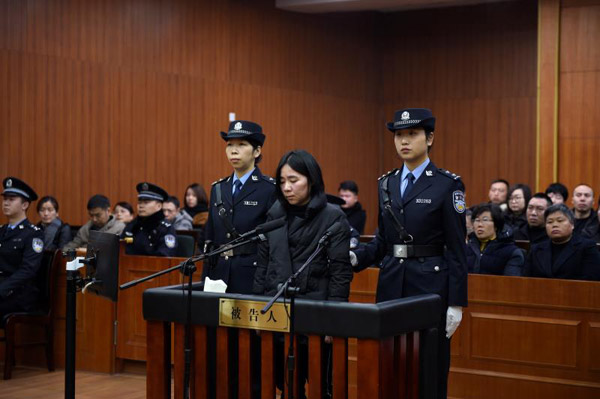 Mo Huanjing, 35, has lodged an appeal to the Zhejiang Provincial High People's Court, according to a report from thepaper.cn Saturday.
The nanny, convicted of starting a fire that claimed the lives of three children and their mother in a high-profile 2017 case that shocked the nation, was given the death penalty Feb 9 by Hangzhou Intermediate People's Court.
Mo Huanjing was sentenced to death by a first instance judgment at Hangzhou Intermediate People's Court. She was tried earlier this month and also was convicted of theft charges.
The verdict ruled that Mo, who was burdened with heavy gambling debt, sought nanny jobs in 2015 to pay her creditors. In September 2016, Mo, through an agent, obtained a live-in nanny job at the home of Zhu Xiaozhen and Lin Shengbin in Hangzhou, Zhejiang province.
Between March and June, Mo stole gold jewelry and watches, then pawned them for over 180,000 yuan ($28,500).
On the night of June 21, Mo lost 60,000 yuan gambling. To raise more money, she decided to win over Zhu's gratitude by starting a fire at the home and extinguishing it, the verdict said.
Between 2 am and 4 am June 22, Mo searched the web on her mobile phone to find out how to set a fire. Around 5 am, Mo ignited books with a lighter. The fire spread to sofas and curtains in the living room, leading to Zhu's death and those of her three children, ages 6, 9 and 11. The cause of death was carbon monoxide inhalation.