Gang leader gets 25 years in prison
By ZHANG YAN | chinadaily.com.cn | Updated: 2018-05-11 10:55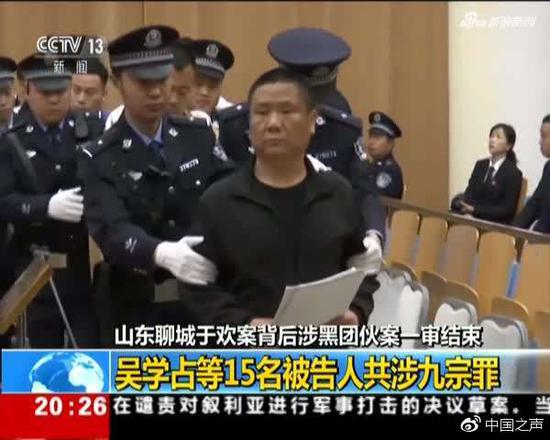 Wu Xuezhan, a former gang leader, was sentenced to 25 years in prison by a Shandong court on multiple charges including masterminding gang crimes, illegal detention and intentional injury.
The Dongchangfu District People's Court in Liaocheng announced the sentence on Friday morning. Another 14 gang members under Wu also were given sentences ranging from 24 months to 20 years, with the fines from 60,000 to 400,000 yuan ($9,470 to 63,150).
Wu, 35, had used the gang members — some of whom were employees in his real estate offices in Guanxian county — to carry out such crimes as using violence to collect debts and illegal detention, according to the court, which also ordered seizure of all his assets.
The gang drew public attention about two years ago when a 22-year-old young man from the area, Yu Huan, stabbed four of Wu's gangsters after he and his mother, Su Yinxia, were beaten and insulted.
Yu was sentenced to life in prison for intentional injury by the Liaocheng Intermediate People's Court in February of last year for attacking the four gangsters, who were also debt collectors. One of the four died in the hospital.
The public's sympathies on social media at the time heavily favored Yu, who appealed to a higher court, arguing that he and Su were confronted by the debt collectors and he was acting in defense of his mother and himself. In June, the Shandong Provincial High People's Court reduced Yu's life sentence to five years for intentional injury.
Wang Wenguang, a lawyer from the Shili Law Firm in Hebei province who represented Su, said the family was satisfied with the verdict for Wu and the gang members.
"But we'll appeal to a higher court for civil compensation," he said. "Wu and other main convicts should also make a public apology to Yu and his mother."
Friday's verdict said that in January 2010, Wu set up the Taichang investment company in Guanxian. It later became Taihe real estate development, which mainly engaged in usury and illegally bidding for projects.
Between January 2010 and May 2016, Wu's gang committed multiple crimes, the verdict said, including threatening other bidders on projects. They illegally established gas stations and developed other real estate, it said.
Wu used some of the illegal profits to pay gang members' salaries and medical costs and compensation for anyone in the gang who was injured or killed while committing crimes as well as their children's tuition.
The court said the gang disrupted the order of people's normal lives and threatened or destroyed the normal work order of judicial authorities and businesses.
The court also found the gang insulted women, illegally detained people and forced other companies or individuals to do business with them. They deliberately destroyed properties, unlawfully invaded homes and committed intentional injuries, according to the verdict.
Cao Yin contributed to this story.