Villages near Three Gorges 'harvest' sunshine
Xinhua | Updated: 2018-08-11 11:48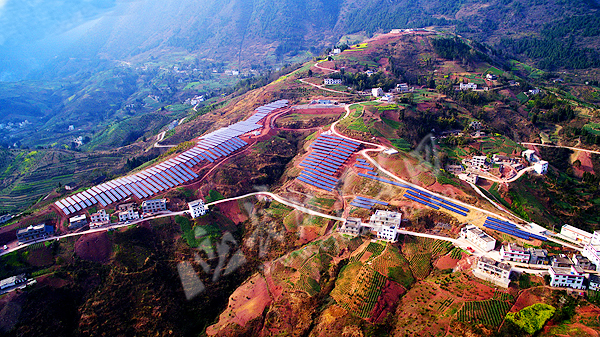 WUHAN - Village cadre Zhou Ming describes the solar power station near his village as a "savings account."
Zhou is Party chief of Shaping, an impoverished village near the Three Gorges dam in Central China's Hubei province.
In the past, he and other village cadres often found themselves unable to handle village issues due to a lack of funding. The solar power station, a poverty alleviation project from the State Grid corporation, has generated power, and therefore income, for the village's public expenses.
The Three Gorges dam on the Yangtze River is the world's largest hydroelectric project. Industrial projects are limited nearby for ecological protection reasons, making poverty alleviation extremely difficult in the mountainous region.
In Badong County, where Shaping is located, 40 percent of residents live below the national poverty line. More than 100 of the county's 322 villages are in extreme poverty.
"We were unable to repair damaged roads or other infrastructure as we had no money. Sometimes, we had to pay out of our own pockets for the funerals of poor villagers who had no family," said Zhou.
Change began in 2016, when State Grid donated a solar power station to each poor village in the county, at an expenditure of 200 million yuan ($29 million) in total.
The 118 stations began operating in June 2017. As of last month, the stations had generated 26.38 million kWh of power, earning the villages a total of 10.98 million yuan, said Li Zhenggang, general manager of State Grid's Badong branch.
The villages also enjoy a national subsidy for the generated power.
Zhou said the power station had earned Shaping Village 280,000 yuan in income.
Except for station maintenance costs, all income is used for public expenses, such as environmental improvement, poverty alleviation, and scholarships for students from the village, he said.
The village loaned farmer Xiang Jiahong 20,000 yuan to raise cattle.
Xiang, who had previously acquired loans from a bank and his relatives, fell into financial trouble as the farm he had invested in was slow to make money.
"With the village loan, I have saved my 25 cows from starving to death," he said.
Now that his farm is large enough to raise 200 cows, Xiang plans to invite other poor farmers to join his business.
"A household can be lifted out of poverty by raising three cows," he said.
Shan Yanping, Party chief of Badong County, said the solar power stations had brought collective income for the impoverished villages and helped with poverty eradication.
China aims to eradicate absolute poverty by 2020, with some 30 million rural people expected to be lifted out of poverty by then.