The keys to success
By Zhou Wenting | China Daily | Updated: 2018-08-22 08:03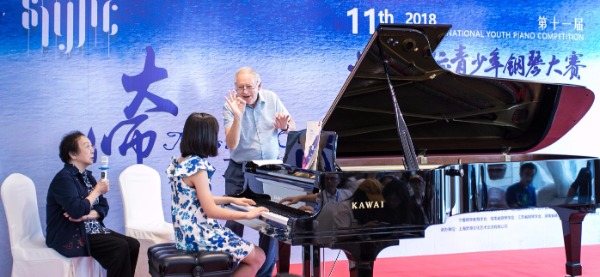 While learning to play the piano remains as popular as ever among Chinese children, the reasons for doing so are continually evolving, Zhou Wenting reports in Shanghai.
Girls, with their hair tied tidily into buns, wore elegant white or red bubble skirts, a Chinese symbol of good luck and celebration. The boys were all decked out in suits with meticulously ironed shirts and cute bow ties.
If it were not for a few of the children flapping their fingers on their laps-which had become imaginary keyboards upon which they were practicing their pieces for the last time before coming up to the stage-it's possible that onlookers would wonder if they were getting ready to attend a royal ball.
These children were actually participants in the final of the 11th Shanghai International Youth Piano Competition, which was held between Aug 13 and 14. Contestants in the final were selected from more than 60,000 children from all over the country.
Learning to play piano has been popular in China since its reform and opening-up. But the reasons for doing so-for students, but more often than not, for their parents-have, according to music-education experts, changed over time.
"At first, parents just sent their children to learn to play the piano out of a passion for music. In the 1990s, attitudes changed. In many regions in the country, students with exemplary piano skills would be prioritized for enrollment in elite junior and senior middle schools," says 90-year-old Zhu Yafen, who chaired the jury of the competition. Zhu is a former dean of the piano department at the Shenyang Conservatory of Music.
Tang Zhe, a professor in the piano department of the Shanghai Conservatory of Music, says that the number of children taking graded tests for amateur piano players in Shanghai has settled at around 20,000 each year since the early 1990s.
He says that, although the popularity of learning to play piano was previously elevated out of necessity, it has not fallen despite the school-enrollment privilege being removed in 1996. Currently, there are an estimated 30 million children learning the piano in the country, he says.