Academic praises rising innovation
By Zhang Ruinan in New York | China Daily | Updated: 2018-08-30 11:15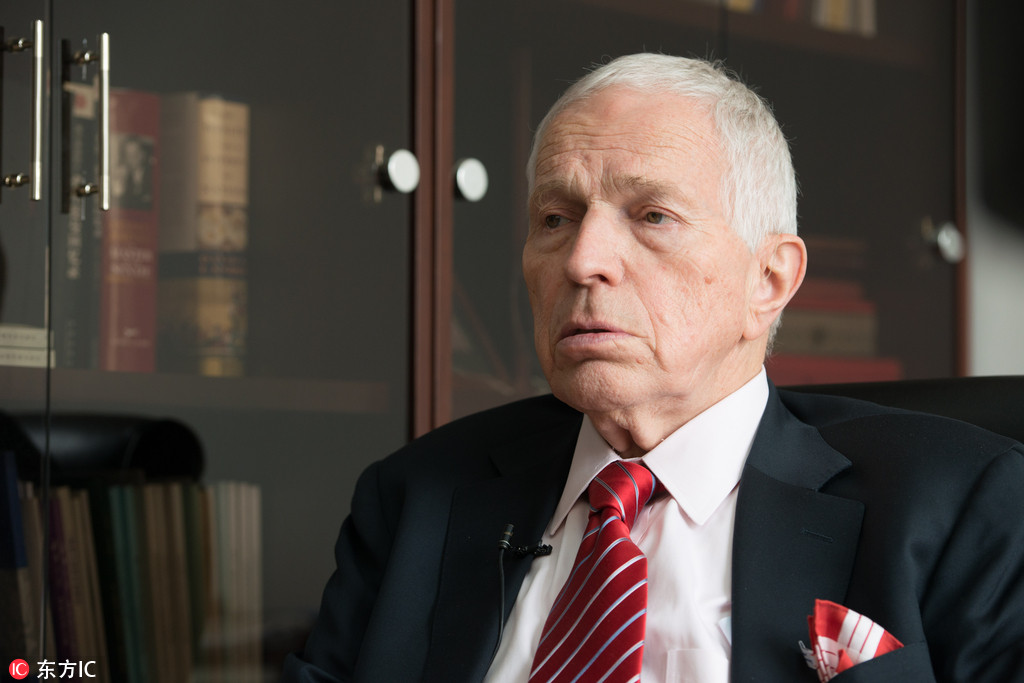 Edmund Phelps says policy changes are encouraging entrepreneurship
For Edmund Phelps, a Columbia University professor who has won a Nobel Memorial Prize and the China Friendship Award, the most significant change in China since his first visit to the country in 1994 is the rise of entrepreneurship and innovation.
"We've all been astonished by the privatization of so much of the commercial sector - that's just been an amazing transformation of production," said Phelps, the winner of the 2006 Nobel Memorial Prize in Economic Sciences, when asked about what impressed him the most over the 40 years since China's reform and opening-up.
"And also, there has been a remarkable welcoming of new firms bearing new ways of producing and new products to produce," he added. "Zillions of new firms have been created in China in the past several decades."
According to government data, more than 21 million companies were registered in the past five years in China.
"Reforms have continued (since China's reform and opening-up), to be sure," said Phelps. "Premier Li Keqiang spearheaded a movement to encourage massive formation of new firms and (Vice-Premier) Liu He got behind a policy of refraining from rescuing moribund enterprises."
Li said at the Summer Davos Forum in Dalian last year that 14,000 new companies are registered daily in China since the country took the initiative to encourage entrepreneurship and innovation in 2014.
Phelps said these initiatives are important. One such initiative has shortened the time and simplified the procedure for forming a new company dramatically, thus inviting a huge increase in the number of enterprises from which innovation may spring.
"No one can foresee the magnitude of China's tech innovation," said Phelps. "And I feel sure it will make a significant contribution to the global economy."
He said the transformation from Made in China to Created in China is essential.
"Technical progress is required for rising wages as well as productivity; this progress requires indigenous innovation, and that in turn requires people with imagination and creativity - though luck and a business sense are also helpful," he added.
The Global Innovation Index 2017, issued by the World Intellectual Property Organization and others a few days ago, put China in 22nd place, 13 spots higher than that in 2013 and highest among the middle-income economies.
The Columbia professor said he is confident about the future of China's reform and opening-up.
"I see a new openness in the Belt and Road Initiative," Phelps said.
"I would also note the increased welcoming of foreign experts (as an important part of China's openness to the outside world in recent years)," he added.
The State Administration of Foreign Experts Affairs has invited Phelps to discuss and advise on China's economic policies, which he thinks are good for both the country and foreign experts.
China should continue to open to Western companies because it's a win-win policy and will help accelerate China's technological progress, the professor said.
"I think the single most important step is to create a modern banking system with bankers who have a lot of experience in the financial sector, business and world banking system and economy," Phelps said.
"In a luncheon speech I gave at the China Development Forum in March of 2016, I noted that people are talking about more consumption and more leisure, but I think what is paramount is a big improvement in the experience of work," the professor said.
He explained that in the past when China's economy was underdeveloped, people focused on increasing income, but now as China is becoming a middle-income country, work experience has become increasingly important to people.
The professor said that China should pay more attention to its workforce and enhance people's work experience, which in turn will enhance wisdom, creativity and imagination, which are essential and significant for the country's innovation.