Survey ships to support fishing sector
By Wang Xiaodong | China Daily | Updated: 2018-09-18 09:00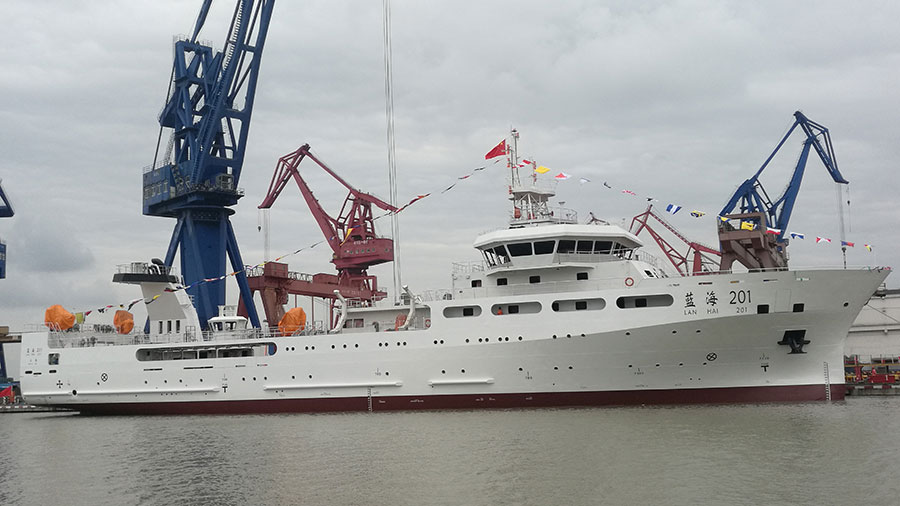 Vessels to enter service in March, improving research capabilities
Chinese engineers have completed construction of the country's two largest scientific survey vessels for marine fishing, and the ships are expected to significantly improve China's ability to conduct marine fishing scientific research, the Ministry of Agriculture and Rural Affairs said.
Construction of the 3,000-metric ton Lanhai 101 and Lanhai 201 was finished on Wednesday in Shanghai, and outfitting of the ships has begun, the ministry said on Sunday.
The two ships are expected to be put into service in March, the Chinese Academy of Fishery Sciences said.
They each measure more than 84 meters in length, and will be equipped with world-class systems for scientific surveys. The vessels will be the biggest and most advanced scientific survey ships after entering service, and will take the lead in China's marine fishing scientific surveys, the ministry said.
The vessels will take part in surveys and monitoring of marine fishing resources and aquatic conditions, and will provide technological support to promote sustainable development of the fishing industry, said Cui Lifeng, president of the academy.
Building of the two vessels was approved by authorities in 2014 after it was determined that such vessels were in short supply, greatly impeding research and protection of marine fishing resources, Cui said.
Chen Xuezhong, a researcher at the academy, said China had 58, various survey vessels for fishing resources in the 1980s, including 50 for marine surveys. However, many of them, once owned by research institutes and colleges, were successively retired after becoming outdated, Chen said. By the beginning of the century, only one major vessel fully equipped for the task was still in service, he said.
Researchers at the academy had to carry portable devices and board ordinary ships owned by other companies for scientific research in recent years, due to a lack of vessels, he said.
Shipbuilding has accelerated since 2000. In 2010, Nanfeng, with a capacity of more than 1,500 tons, was put into service, the academy said. In 2013, authorities approved building four 300-ton fishing survey ships, it said.
China will build more fishing survey ships in the next few years so territorial waters and key international waterways can be covered by scientific research, according to a national plan released by the ministry in December 2016.