Science literacy benefits touted
By Wang Keju | China Daily | Updated: 2018-09-18 09:21
Informed citizens can deal better with technical issues in society, conference told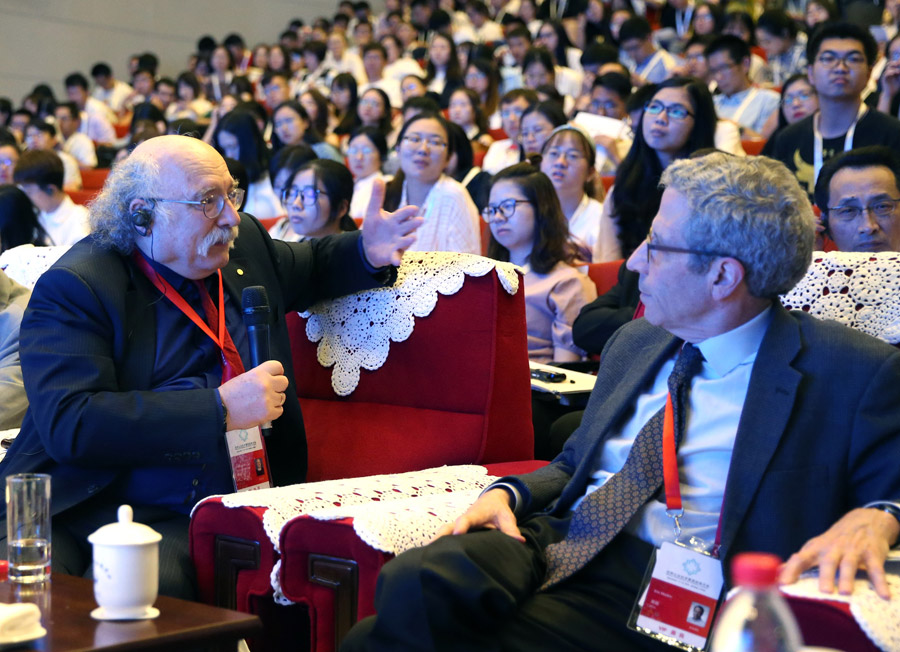 Experts at the World Conference on Science Literacy in Beijing are calling for the worldwide promotion of public literacy in science, saying it plays an important role in the sustainable development of mankind.
Various approaches were shared, with the aim of building an international exchange platform and a global cooperation mechanism to push scientific literacy, which will eventually enhance human well-being and create a better future, said Yuan Yaxiang, vice-president of the China Association for Science and Technology.
Themed "Science Literacy for a Shared and Better Future", the conference is the first international event to be dedicated to public scientific literacy and is hosted by the China Association for Science and Technology. It will run through Wednesday.
Tom McLeish, professor of natural philosophy at the University of York, said at a subforum that a scientifically literate population is able to contribute more effectively to the development of society.
"Questions regarding genetically altered foods, nuclear power plants, global warming, fluoridated water and energy conservation confront us every day. Science education can help develop informed citizens who are prepared to deal with science-related social issues and who can influence policy that affects them and their communities," he said.
Dmitrii Vladimirovich Ivanov, a corresponding member of the Russian Academy of Sciences, said Russia built a science and technology museum system - with participation not only by educational institutions but by social groups and commercial organizations to host a variety of activities, and it proved to be an effective method for the development of scientific literacy.
"Improving scientific literacy contributes to the harmonious and sustainable development of every country. And it needs the joint efforts of academic, governmental and business organizations to engage the public in scientific enterprises," he said.
Du Zhanyuan, vice-minister of the Ministry of Education, said that although the scientific literacy rate of the Chinese population has reached about 8.5 percent this year, there's still a big gap. A survey of 2,000 people conducted by EKOS Research Associates in 2013, for example, found that Canada ranked first in scientific literacy, with 42 percent of Canadians able to read and understand newspaper articles detailing scientific findings.
China will support colleges and other institutions to play a leading role in promoting scientific literacy and providing more opportunities to attract scientific talent to raise awareness of science and the issues that science raises in society, Du said, adding that the government will also put more emphasis in constructing infrastructure, such as science and technology museums, to give people easy access to science.
wangkeju@chinadaily.com.cn
What is scientific literacy?
First used in the late 1950s to describe the general public's familiarity with science, scientific literacy stands for a broad, evolving concept that embodies a variety of meanings and goals, ranging from fostering informed, rational citizens to preparing skilled workers for labor markets, according to the Journal of Research in Science Teaching.
In 1996, United States National Center for Education Statistics defined scientific literacy as "the knowledge and understanding of scientific concepts and processes required for personal decision-making, participation in civic and cultural affairs and economic productivity". The Organization for Economic Cooperation and Development defined it in 2015 as "the ability to engage with science-related issues, and with the ideas of science, as a reflective citizen".