China-Indonesia oil palm plantation gives more income for local villagers
By Abu Hanifah | Xinhua | Updated: 2018-10-02 01:49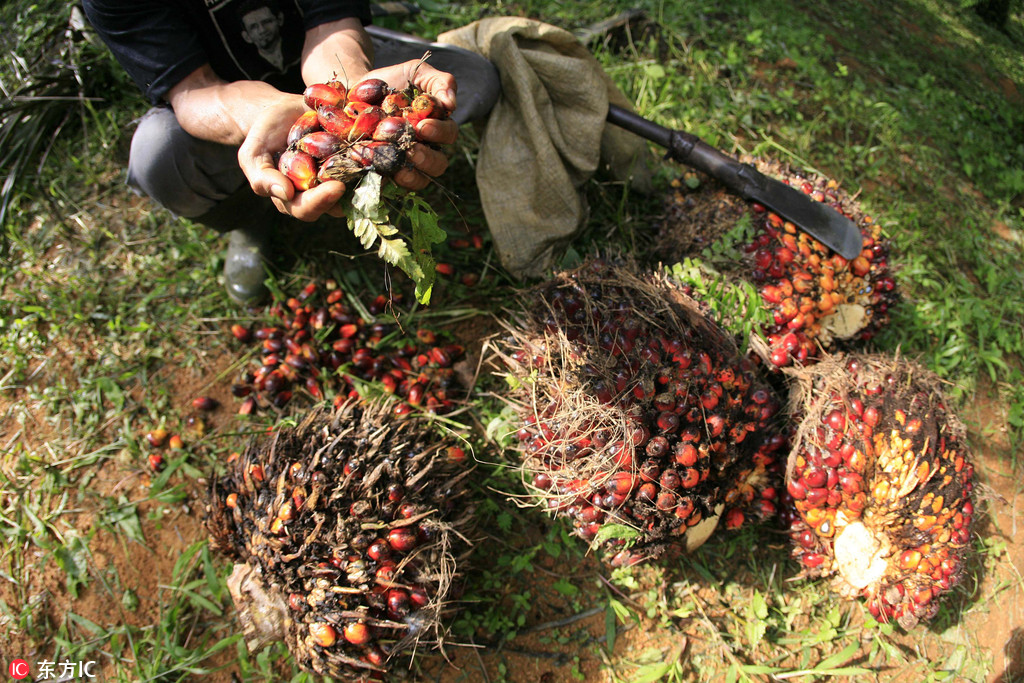 SINTANG, Indonesia -- An oil palm plantation operated by the Chinese Julong Group in Indonesia's West Kalimantan province has made local people earn more from their work in the plantation.
Most of the villagers around the plantation in Sintang district work part time to harvest oil palm fruits. The rotating harvest in each of the plantation blocks allows them to get extra money besides revenues from their own farmlands.
"They actually were farmers working in their own land around the village. They were eager to make more money by harvesting the oil palm fruits," Sugianto, chief of Sungai Maram village located near the oil palm plantation, told Xinhua in the plantation in Sintang.
Besides the farmers, the plantation also benefits land owners who plant oil palm trees in their lands through a partnership scheme with attractive offer for their oil palm fruits, he added.
"Basically we have no unemployed people since the plantation's operation here as long as they are willing to work," the village chief added.
Farmers can now buy more household necessities and are even able to pay tuition fees for their children up to university, he said.
A local couple employed by the plantation said they could save up to 2 million rupiah (about $175) per month compared with almost nothing at their previous workplace in Java.
"Besides the saving, we can now also have more family time as we only need to work until the afternoon. We worked around the clock to monitor leafs in a tobacco plantation in East Java province," said Tori with his wife standing by his side in the Julong Group plantation.
The couple from East Java city of Situbondo also encouraged their family and friends in their hometown to work with them in the plantation.
The Julong Group's oil palm plantation in Sintang is a take-over zone from a domestic firm since 2014.
The Tianjin-based company has planted 60,000 hectares of oil palm trees, with a total investment of nearly $1.3 billion. The plantation has recruited nearly 10,000 locals, including employees and part-time workers.
As the Julong Group prioritizes local employment in Indonesia, it only has 70 Chinese personnel in the plantation.
Its cooperation with local oil palm cooperative organizations, like the scheme in Sungai Maram village, has covered 20,000 hectares of land, involved 9,000 villagers and benefited nearly 50,000 people.
The China-Indonesia Julong Agricultural Industry Cooperation Zone with five parks on the Kalimantan island was promoted as an economic and trade cooperation zone in August 2016.
The group's Supply Chain Director Fan Yang said Julong is a practitioner of China's Belt and Road Initiative.
The Silk Road Economic Belt and the 21st Century Maritime Silk Road initiative, proposed by China in 2013, is aimed at building a trade and infrastructure network connecting Asia with Europe and Africa along the ancient trade routes.
"The initiative has provided various opportunities for our local investment and expansion. We are confident of making greater achievement and serve the two countries," he said.