New AI-powered lab set up to support aviation sector
By WANG YING in Shanghai | chinadaily.com.cn | Updated: 2018-10-12 15:25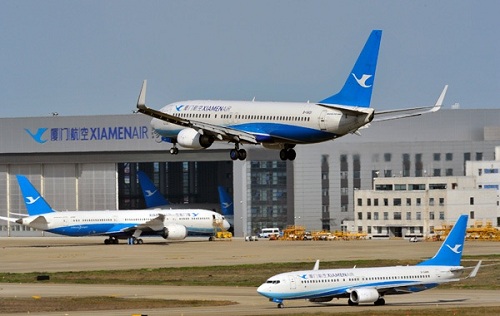 China's first algorithms laboratory for the aviation sector was jointly launched by Tongji University and Xiamen Airlines in Shanghai on Oct 11, and the two parties expect the lab to play a key role in utilizing artificial intelligence to solve problems and improve the overall efficiency of the industry.
The lab, which is situated within the campus of Tongji University, will have about 20 permanent researchers from Tongji University and Xiamen Airlines.
"In the past few years, the rapid development of the aviation sector has led to a growing density of flights and an increasingly complex airlines network which makes it more difficult than ever for management by human," said Wang Hongjian, chief information officer of Xiamen Airlines.
Wang added that the joint lab is also expected to play a key role in assisting or even replacing human labor in the scheduling of aircraft and crew.
Last June, Liang Zhe, a professor with Tongji University who is in charge of the lab, and his team designed a solution for large-scale flight delays that outperformed more than 1,600 teams from around the world in a smart aviation AI contest organized by Alibaba Cloud, the cloud computing arm of Alibaba Group.
This award-winning solution has since been implemented by Xiamen Airlines and has greatly shortened the flight recovery time in large-scale flight delays caused by weather.
Through the joint efforts of Tongji and Xiamen Airlines, the lab also creates smart solutions for safe and convenient air trips, said Wang.