Calif. high-speed rail scaled back
By LIU YINMENG in Los Angeles | China Daily Global | Updated: 2019-02-14 00:14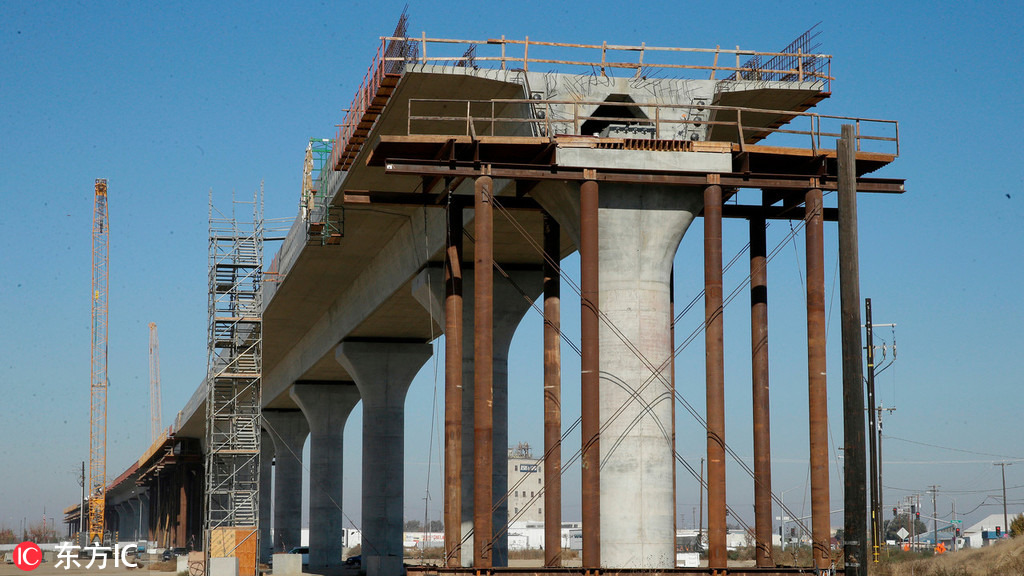 California's new governor Gavin Newsom is reducing the scope of a proposed high-speed rail line between San Francisco and Los Angeles, a project strongly supported by predecessor Jerry Brown.
"Let's be real, the project, as currently planned, would cost too much and take too long. There's been too little oversight and not enough transparency," Newsom said.
However, he said the state does have the capacity to complete a high-speed rail link between Merced and Bakersfield in California's Central Valley.
"I know that some critics will say this is a 'train to nowhere'. But that's wrong and offensive. The people of the Central Valley endure the worst air pollution in America as well as some of the longest commutes.
"High-speed rail is much more than a train project. It's about economic transformation and unlocking the enormous potential of the Valley," the governor said.
The cost for the California High Speed Rail Line has surged from its original estimate of $33 billion to between $77 billion to $98 billion.
Its completion time also has been moved from 2029 to 2033.
In response, Brian Kelly, CEO of the California High-Speed Rail Authority, the agency overseeing the state project, said he welcomed the governor's new direction.
"The governor has called for setting a priority on getting high speed rail operating in the only region in which we have commenced construction — the Central Valley. We are eager to meet this challenge and expand the project's economic impact in the Central Valley," Kelly said.
In 2008, California voters approved an almost $10 billion bond for a high-speed rail line in California.
The proposed project promised that passengers would be able to travel from San Francisco to Los Angeles in less than three hours at a speed above 200 miles per hour.
The system would eventually be extended to Sacramento and San Diego, totaling 800 miles, with up to 24 stations.
In 2012, Brown approved almost $8 billion in federal and state funds for construction on the first high-speed rail investment in the Central Valley, as well as 15 bookend and connectivity projects throughout the state.
Construction for the railroad has been ongoing since 2015.
Nevertheless, the project, conceived almost a decade ago, was beleaguered by cost overruns and construction delays.
Proponents said the project provides a cost-saving alternative to travel by airplane and that it contributes to economic developments in the Golden State. But critics have said the project is a waste of time and money.
A state audit in November asserted that CHSRA's "ongoing poor contract management for a wide range of high-value contracts have contributed to billions of dollars in cost overruns for completing the system".
It also pointed out that CHSRA rushed to award construction contracts for the Central Valley as early as 2013 — before it completed critical tasks such as purchasing land and sufficient planning — in order to meet a federal government funding deadline.
California Assemblyman Jim Patterson, a Republican from Fresno and longtime opponent of the project who requested the audit, said Tuesday on Twitter that Newsom "put the final nail in the coffin of high-speed rail this morning".