Promising progress needs pushing forward to a deal: China Daily editorial
chinadaily.com.cn | Updated: 2019-02-15 20:59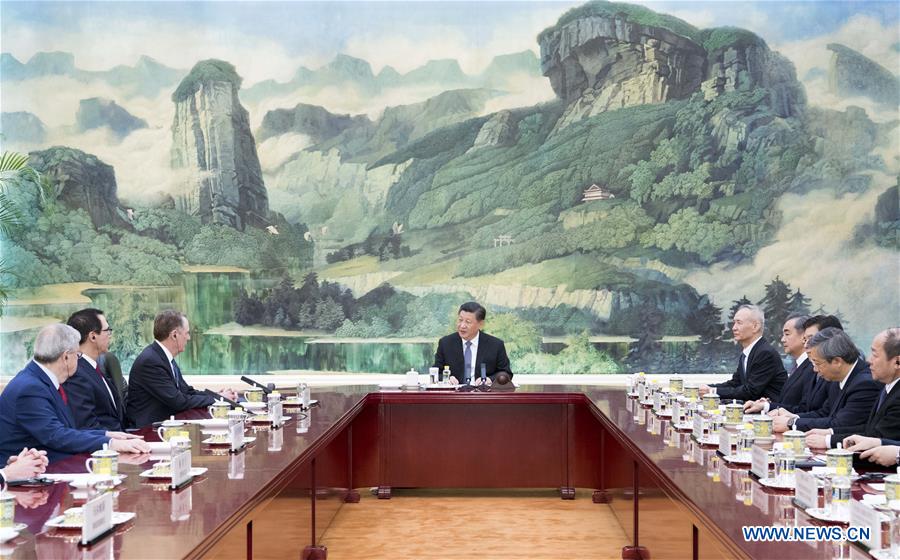 Related:
President Xi meets US trade representative, treasury secretary

In welcome news, it seems that the latest talks between China and the United States, which concluded on Friday, have further narrowed their differences and expanded their common ground on key trade and economic issues.
The two sides entered the two days of high-level talks on Thursday amid a flurry of positive signals that progress was being made. And it seems that their candid discussions have continued to be rewarded.
There has clearly been movement on a number of topics that have been the focus of their recent trade rows. Speaking to President Xi Jinping after the talks wrapped up, US Trade Representative Robert Lighthizer said the negotiators "feel we have made headway on very, very important and difficult issues".
It is probably still too early to conclude that this heralds an end to the long-running trade dispute between the two countries, and it would be rash to be overly sanguine about the prospects for relations given Washington's anxieties about China's rise, which may simply be channeled in other ways. But the agreement between Xi and his US counterpart Donald Trump in December to press the pause button on frictions, and the subsequent intense series of discussions to find ways to stop them escalating, show both sides are aware of how damaging and potentially dangerous it would be to keep locking horns over their trade relations.
Hopefully, the discussions over the past three months have helped both sides to better understand each other's concerns and fostered greater mutual trust.
That the feel-good atmosphere that has prevailed since the January discussions in Washington has been maintained by this round of talks was evident as the negotiations are to continue in the US capital next week. This welcome development was confirmed by Xi, who said he hoped the discussions would carry forward the positive momentum as it conformed to the interests of both countries to strengthen their cooperation.
Although it is probably too hasty to interpret from this that a deal is imminent given some of the US demands, it is to be hoped that the just-concluded negotiations have laid the groundwork for next week's discussions to establish a framework for a resolution to the trade dispute, so that a meeting between Xi and Trump, which is regarded as necessary to finalize any deal, can be scheduled for this purpose as soon as possible.
New progress on the outstanding difficult issues is imperative as the trade frictions have not been good for either country, despite claims to the contrary.
The tariffs imposed on Chinese goods by the US so far have had a negative impact on the Chinese economy, but it has shown resilience in coping with the shocks, and the repercussions have not been as severe as predicted. In January, for instance, Chinese exports rose 9.1 percent from a year earlier, compared with a 3.5 percent decline in December, according to customs data released on Thursday. And although its export growth to the US continued to drop, no doubt due to the raised tariffs on Chinese goods, China's shipments to other major markets, such as the European Union, Japan and Southeast Asia, all rose strongly.
Meanwhile, despite assertions otherwise, the US economy has not remained unscathed, as shown by the need to offer emergency assistance to its farmers and the voices of complaint from US companies urging the administration to change tack.
Cooperation based on fully respecting mutual interests is the best way for the two countries to renew their trade and economic relations with a deal that is in line with the interests of both countries. If that has been the shared understanding during this week's talks, and it is carried forward in the negotiations in Washington next week, hopefully the two sides will be able to narrow the differences between them sufficiently so that the two leaders can pencil in a date for a meeting at which they can shake hands on a deal that sets the right course for future relations.