Tottenham Hotspur planning preseason match in Shanghai
By Angus McNeice in London | China Daily Global | Updated: 2019-02-20 02:53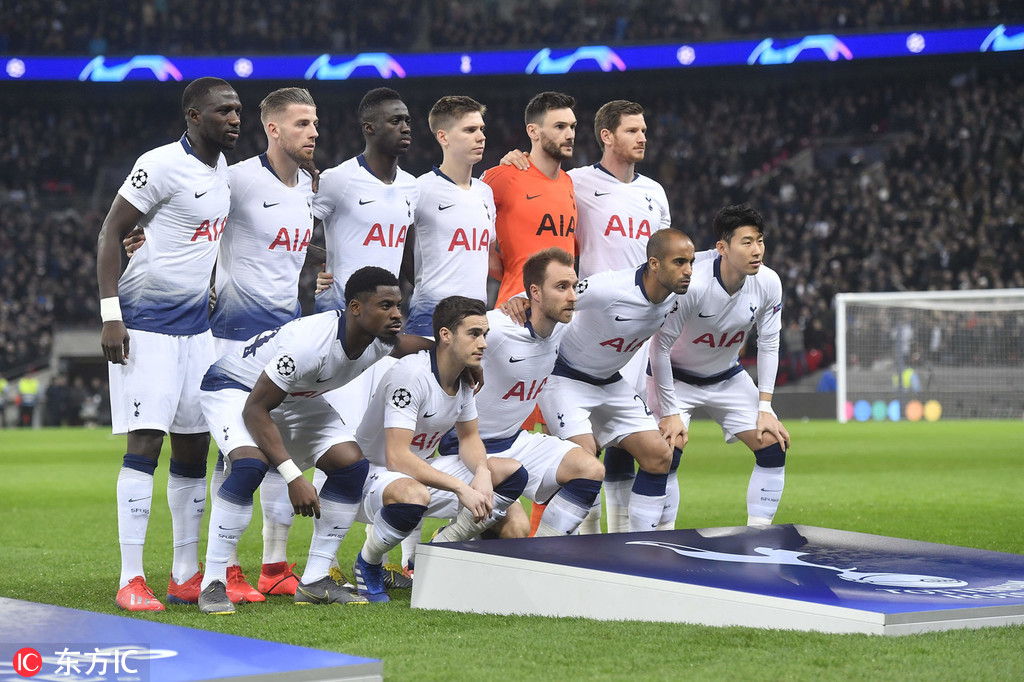 English Premier League title contender Tottenham Hotspur will travel to China for a preseason fixture in Shanghai this year, the soccer club confirmed on Tuesday.
It will be the North London team's maiden visit to Shanghai, and its first trip to the Chinese mainland since it competed for the Barclays Asia Trophy in Beijing in 2009. Tottenham traveled to Hong Kong in the spring of 2013.
The team will also visit Singapore as part of the latest tour but, so far, no dates for fixtures have been announced.
"The visit affords the club the opportunity to engage with our millions of fans across Asia, including official supporters' clubs in both countries in which we will be playing fixtures," the club said in a statement.
Recent success in the Premier League has lifted Tottenham's profile in China, where the club is the 10th most-followed European soccer team on Chinese social media, according to Shanghai-based sports marketing company Mailman.
In each of the last three seasons Tottenham has finished inside the top four and qualified for the Champions League, an annual tournament contested by Europe's elite clubs. After 26 games this season, Tottenham is third in the Premier League, just five points behind league leaders Manchester City and having played one game less.
High-profile players in Tottenham's roster, including prolific England striker Harry Kane, have also drawn attention to the team.
Kane finished as the top scorer in the Premier League in 2016 and 2017, and won the Golden Boot at last year's World Cup. On the club's official page on Chinese social media platform Weibo, content about Kane performs 90 percent better than the average post, according to Mailman.
The trip to China will coincide with the 100th founding anniversary of club sponsor AIA Group, a Hong Kong-headquartered life insurance company that was established in Shanghai in 1919.
"Our tour to both Singapore and Shanghai will form an important part of (AIA's) centennial, with a 12-month program of special events and activities across its 18 markets in the region having commenced in January," the club said.
In 2013, AIA became Tottenham's shirt sponsor for cup competitions. The following year, the sponsorship expanded to include Premier League fixtures in a deal believed to have been worth 80 million pounds ($103.6 million) over five years. In 2017, the deal was extended for a further five years.
AIA operates primarily in Asia, and the life insurer has pursued partnerships within soccer – the arguably most popular sport in the world – to raise the brand's global profile and to promote exercise and healthy living, according to former AIA chief executive Mark Tucker.
The company signed up former Manchester United and Real Madrid star David Beckham as a global brand ambassador in 2017. Beckham has since appeared at AIA events in Beijing, Hong Kong, South Korea, Singapore, and Malaysia.
Tottenham signed another deal with a Chinese sponsor – smartphone brand Leagoo – in 2017. Both AIA and Leagoo have helped Tottenham coordinate a number of promotions targeting Chinese fans, including mobile gaming software, a Mandarin-language club website, and dedicated pages on Chinese social media and streaming platforms.
For Tottenham, these deals provide an opportunity to keep pace with Premier League rivals in the lucrative drive to build a Chinese soccer fan base.
Tottenham estimates it has 45 million fans in China. In comparison, Manchester United, the most supported Premier League soccer team in China, has an estimated 107 million Chinese fans and more than a dozen commercial partnerships with Chinese companies.
Premier League champions Manchester City has also built strong links with China.
The club's parent company, City Football Group, also known as CFG, is part-owned by Chinese consortium China Media Capital.
On Wednesday, CFG will announce the purchase of third-tier Chinese soccer club Sichuan Jiuniu, according to multiple media reports.
CFG already owns or has stakes in teams in the United Kingdom, the United States, Australia, Japan, and Uruguay. This franchise model gives the teams sponsorship synergies and streamlines exchanges among players and staff.
Contact the writer to angus@mail.chinadailyuk.com