ZTE unveils its first 5G smartphone
By Zhou Mo | China Daily | Updated: 2019-02-27 07:53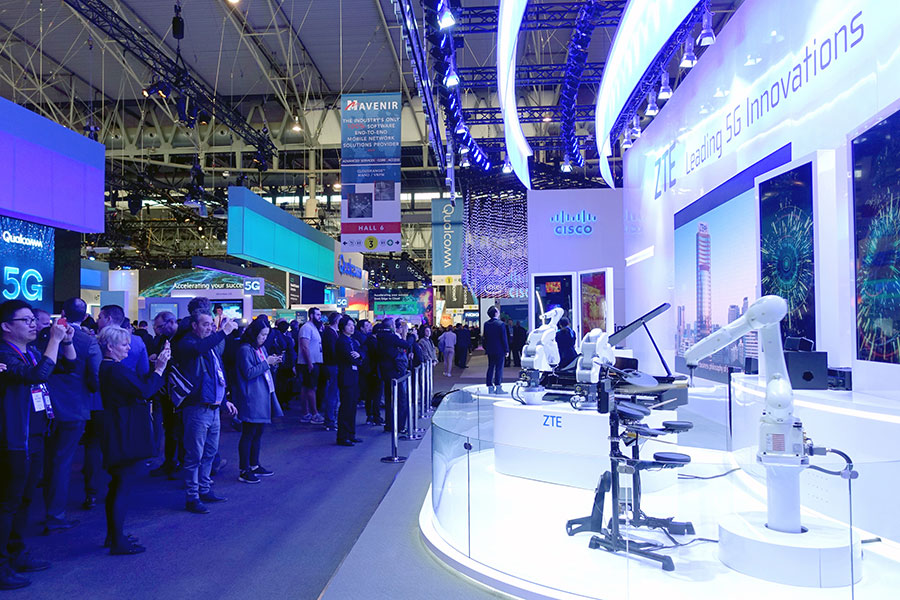 ZTE Corp unveiled its first 5G flagship smartphone at the Mobile World Congress in Barcelona on Monday as the Chinese telecom equipment and smartphone manufacturer seeks to gain a foothold in the 5G battlefield, which is likely to refuel the industry's growth amid its current market saturation.
Powered by the Qualcomm Snapdragon 855 mobile platform along with the Snapdragon X50 5G modem and an artificial intelligence-powered performance engine, the ZTE Axon 10 Pro 5G supports sub-6G spectrum frequencies, enabling users to enjoy "extremely fast" video and gaming experiences.
The 6.47-inch smartphone also features AI capabilities, with AI functions being applied in its triplecamera, motion capture, scene recognition, portrait lighting adjustment and user behavior learning.
European and Chinese consumers are expected to be the first to get their hands on the new device, sometime in the first half of the year, but the company did not reveal how much they were likely to pay for it.
"Terminals are an important part of ZTE's end-to-end layout of 5G applications. Along with the commercial launch of the world's first 5G network, ZTE is pioneering the launch of the first 5G flagship smartphone, which perfectly combines 5G core technologies with the ultimate user experience," said Xu Feng, chief executive officer of ZTE mobile devices.
Xu noted that ZTE attaches a great deal of importance to restoring its operations in key markets and the company has already resumed cooperation with major global operators.
The launch of the handset comes as global smartphone shipments are seeing consecutive quarters of decline, which many experts say is a result of market saturation and a lack of innovation.
During the fourth quarter of 2018, a total of 375.4 million units were shipped, down 4.9 percent year-on-year, marking the fifth consecutive quarter of decline, according to statistics from International Data Corporation. In the whole of last year, a total of 1.4 billion units were shipped, a decline of 4.1 percent year-on-year.
Smartphone manufacturers believe 5G technology will be a shot in the arm for the industry and fuel a new round of growth by enabling mobile devices to perform more functions at a super fast speed. A number of other Chinese vendors, including Huawei and Oppo, have also introduced 5G handsets at the world's largest mobile industry exhibition.
"Although large-scale commercialization of 5G is expected to take place by 2020, the process has so far exceeded our expectations," Xu said.
"The advent of 5G technology will boost the smartphone industry and stimulate consumers to change their mobile devices, returning the industry to the growth path," he said.
According to a report by Counterpoint, global 5G smartphone shipments are expected to grow by 255 percent annually to reach 108.2 million units by 2021.
Xu said that in order to strengthen the presence of its mobile devices, ZTE will focus on a number of key markets, including China, Japan, Australia, Europe and Latin America.
"Development of 5G technology will drive the growth of the smartphone industry, but due to the high cost, it will be a gradual process," said Wang Xi, an analyst from IDC. "We will probably have to wait until the end of 2020, or even 2022, before any significant change can be seen in the smartphone industry as a result of 5G breakthroughs."