Dafen moves from producing art replicas to being a hub of creation
Xinhua | Updated: 2019-03-07 07:05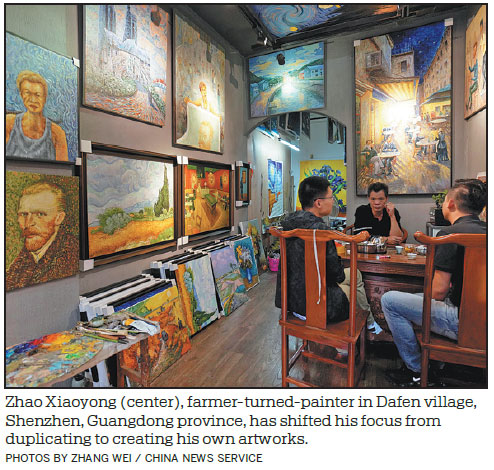 Zhao Xiaoyong, a farmer-turned-oil painter, has made over 100,000 replicas of Vincent van Gogh's work over 20 years.
But Zhao had not seen a single work of the Dutch post-impressionist painter until 2014, when he finally saved enough for a trip to the Netherlands.
The trip inspired him to think over his business and create his own works.
"The masterpieces that I saw at European museums made me realize that I have to develop my own style."
Zhao is from Dafen, a village in Shenzhen, South China's Guangdong province.
The village, which is home to 1,200 studios and 8,000 painters, produces millions of replicas of artworks by Van Gogh, Claude Monet and Pablo Picasso that are sold at home and abroad.
According to statistics, 80 percent of the oil paintings exported from China come from Dafen.
While the market for replicas is shrinking, Zhao and other painters in the village are now creating their own art.
Neighboring Hong Kong, Shenzhen was one of China's first special economic zones.
The painting industry took root in Dafen village in 1989 when Hong Kong investors sought to establish an oil painting base nearby.
Zhao quit his job at a craft factory in 1996 and started learning how to paint from scratch. He imitated Van Gogh's works by looking at an album of paintings, which included Sunflowers and Almond Blossom.