Giving historical spaces their own voice
By Zhang Kun in Shanghai | China Daily | Updated: 2019-05-10 09:11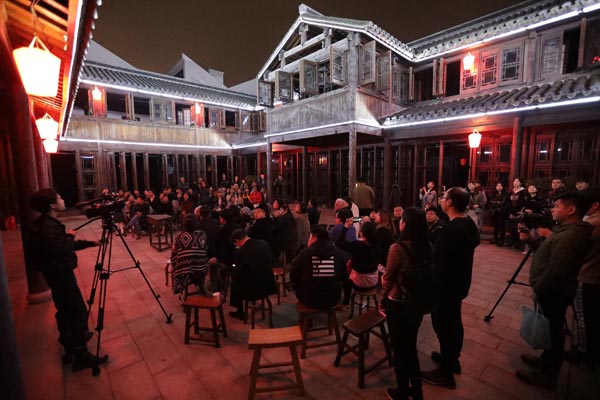 A music performance titled The Singing House premiered on April 26 and 27 at Zhu Ji Ge, a courtyard in Shanghai's Zhujiajiao watertown.
Zhu Ji Ge is a 100-year-old courtyard in Zhujiajiao that is often dubbed Shanghai's "Little Venice" because of its many waterways. The watertown in suburban Shanghai's Qingpu district has retained much of its character from the early 1900s and is one of the most popular tourist destinations in the city.
The courtyard is located near the famous arched Fangsheng Bridge, and is surrounded by two-story houses built using traditional Chinese mortise and tenon work.
The project, which is supported by the National Art Foundation of China, was created by the digital media college of the Shanghai Conservatory of Music and features music from local ballads, children's rhymes, local opera, as well as rock, flamenco and film scores.
Four instruments were used in the performance: guzheng, or Chinese zither, zhongruan, a Chinese plucked string instrument, a bamboo flute and a cello.
Audience members were seated in the middle of the courtyard as a dancer and actress moved around the square, leading their focus to different spots where musicians were playing.
Chinese gardens were designed and built as the spiritual backyards of ancient Chinese intellectuals, according to Dai Weiyi, an associate professor with the SCM who is responsible for the whole production. Dai is a composer and academic who specializes in research into the expression of sound in public spaces.
"When people walk through the yard, they feel the breeze and hear all kinds of sounds that tell of the stories and memories of the place. A garden can speak and sing," he says.