Inspirational archipelago
By Chen Nan | China Daily | Updated: 2019-06-01 10:49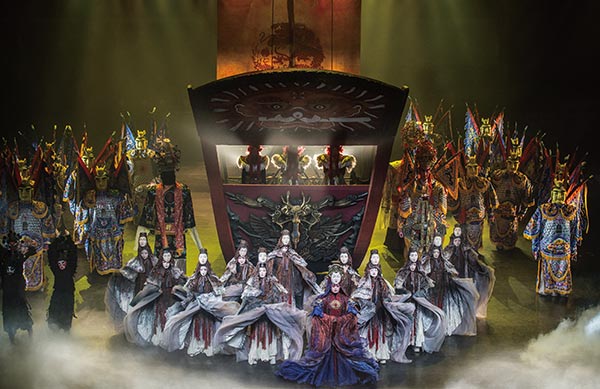 The visual spectacle gathers together over 50 characters born from the ancient folk tales of Pingtan, such as the prince of the ocean, hardworking farmers and evil gods.
Masks are a crucial element of the dance drama. The female choir members wear masks as they dance onstage as a goddess but they remove their masks when they start to sing to perform as humans. Since Pingtan is close to Taiwan, the statue of Mazu, a goddess of the sea in Chinese culture, can be seen in the temples of Pingtan, demonstrating the deep cross-Straits connections. In Pingtan Impression, Yang borrows the image of Mazu and depicts the holy pilgrimage to Mazu onstage.
Yang also mixes glove puppetry, a form of performance native to Fujian province and also popular in Taiwan, into her choreography. Along with stage designer Tao Lei, Yang recreates life-size glove puppets for the stage.
"The audience can see the unique style of Yang Liping in every part of the stage, like the sounds and colors. It's more than a show. She wants to showcase the power of folk art and nature, which inspired her from the beginning of her career," says Tao.
The other creative team members include composer Qi Yanfeng, who based his creations on Minju Opera, one of the major folk operas of Fujian, and also combined them with folk songs popular among local fishermen.