Pop duo team up for Monster track
By Chen Nan | China Daily | Updated: 2019-06-01 11:01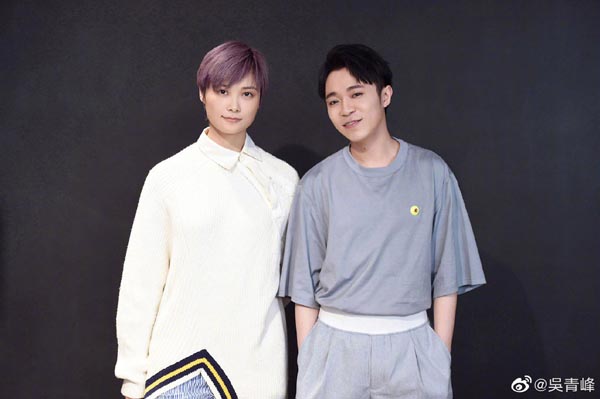 Last summer, pop stars Li Yuchun and Wu Tsing-fong met at a talent show, The Coming One, filmed for the Chinese streaming platform Tencent Video. Along with another coach, the two singer-songwriters were responsible for developing original singer-songwriters on the show.
Li and Wu became close friends during the show and their mutual artistic admiration for each other led them to the recording studio, where they collaborated on a new single, As a Monster.
Their first creative collaboration, the song is dedicated to the people who pride themselves on being a little "odd".
"I liked the lyrics written by Li Geli very much when I first read them," says Li in Beijing, two days ahead of the single's digital release on May 20. "It portrays people who, sometimes, feel out of the place and are often considered as 'monsters'. I am shy and not sociable. I'm like one of those 'monsters' sometimes."
One of the biggest pop icons in China, Li rose to fame after winning the popular TV talent show Super Girl in 2005, which attracted millions of viewers.
One day in March, Li emailed the lyrics to Wu, who immediately shared her ideas. Not long after, Wu composed a song and sent it back to Li.
"I was exhausted with the hectic schedule that day. But when I listened to the demo, I felt excited and I knew it was right," Li recalls.
The rhythm, as Wu says, just came to him in a flash. And as the title suggests, the song is a playful riff on electronic indie-pop.
"I believe that everyone has a moment where they are being 'odd'. Sometimes I want to be silent or alone when I am among a crowd. It's a very private and personal feeling. It's about finding yourself and being yourself," says Wu, the former lead vocalist of Taiwan pop-rock band, Sodagreen.
"Although I have written songs for many people, I have never performed with another singer. This was my first time," adds Wu, who recorded the song with Li in Beijing.