Action plan to boost domestic formula sector
By Wang Zhuoqiong | China Daily | Updated: 2019-06-04 08:27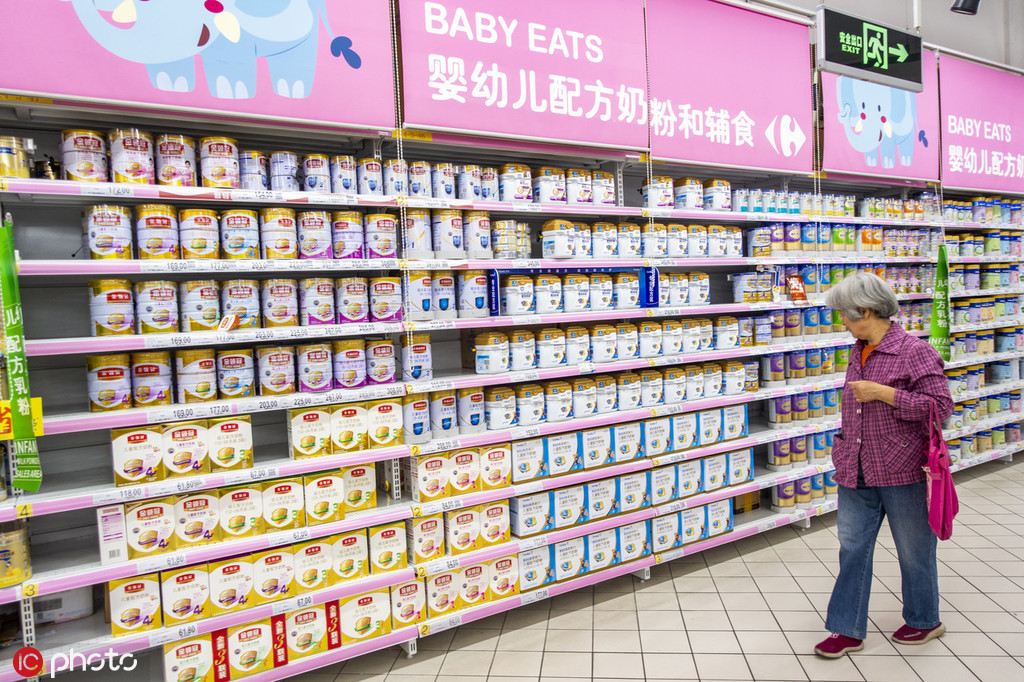 Seven ministries including the National Development and Reform Commission, China's top economic regulator, jointly issued a notice of an action plan on Monday to strengthen the domestic infant and toddler formula milk industry, with a goal to increase domestic supplies to more than 60 percent of the market.
The action plan is to further improve the quality, competence and reputation of the domestic infant and toddler formula milk and strengthen domestic dairy enterprises, and aims to steadily increase the production volume of domestic infant and toddler formula milk.
The notice said that domestic supply of infant and toddler formula milk is expected to increase to more than 60 percent of the industry in total.
According to global data analytics company Nielsen, domestic infant and toddler formula milk accounted for 43.7 percent of the market in 2018, seeing a growth rate of 21.1 percent.
The notice also encourages companies to acquire and restructure infant and toddler formula milk producers in order to eliminate the outdated capacity and further consolidate the sector.
It is expected to support eligible companies to issue shares and bonds to expand, and other taxation benefits will be offered to companies which establish dairy manufacturing facilities overseas.
Song Liang, an independent dairy analyst, said that with the concentration of domestic dairy brands and the shortening gap between domestic and international dairy players, it is the right timing to issue such a notice.
He said that domestic brands take up 35 percent of total sales in China and international brands have 65 percent.
"Confidence in domestic dairy brands among the public is recovering but still requires a solid foundation," Song said.
"It is vital for them to strengthen research and self-owned technology to improve their product quality in order to compete better at home and abroad."
He said diversity is also critical for domestic brands to find a proper position in the market given that some domestic brands charge extra high prices that are going to exclude them from lower-tier markets.