Summer festival set to offer treat to Shanghai music fans
By ZHANG KUN | China Daily | Updated: 2019-06-10 07:59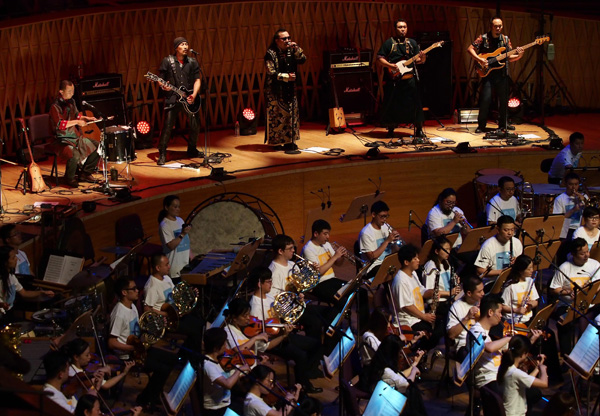 A number of new musicians and music productions will make their China debuts at the upcoming Music in the Summer Air festival in Shanghai, which will take place from July 2 to 15.
The MISA festival is an annual event that has been hosted by the Shanghai Symphony Orchestra and the municipal educational commission since 2010. This year, the festival will consist of 23 concerts at the Shanghai Symphony Hall and the Shanghai Urban Music Lawn, an outdoor music space next to the Shanghai Concert Hall.
Among the acts to feature at the event, Swiss Conductor Charles Dutoit will collaborate with German singer Ute Lemper and the SSO to present the Chinese premiere of The Seven Deadly Sins at the Shanghai Symphony Hall on July 5.
The satirical ballet chante (sung ballet) penned by German composer Kurt Weill in 1933, sometimes referred to as Weimar Germany's swan song, will be performed at the show. And Lemper is believed to be the best interpreter of Weill's composition, says Wang Xiaoting, the program director of SSO.
Also premiering at the festival will be Raymond Yiu's work Xocolatl.
The London-based composer, pianist and conductor is of Chinese descent, and the piece will be presented by the BBC Symphony, under the baton of Sir Andrew Davis on July 7.
A cross-over festival that embraces music of diverse genres, MISA will this year present a world music concert led by Chinese pipa player Wu Man; a mandolin concert by musicians from Israel and an ethnic music concert from Syria, as well as Japanese taiko drumming troupe Kodo's new project Evolution under the artistic direction of master kabuki artist Tamasaburo Bando.
After two performances on the Urban Music Lawn on July 12 and 13 in Shanghai, the Kodo drummers will head on to the Guangzhou Opera House in Guangdong province and the Beijing Tianqiao Arts Center for more shows.
Meanwhile, Yuan-pu Chiao, a Chinese musician based in Taiwan, has adapted Edvard Grieg's composition Peer Gynt, and invited theater actor Wang Yaoqing to narrate in Chinese the 21 different roles in the play by Ibsen, to help audiences enjoy the music.
The concert will be presented by the SSO under the baton of Zhang Jiemin on July 9 and will feature soprano Ma Qian.
Speaking about how the event has evolved over the years, Zhou Ping, the director of the SSO, says: "It seems like only yesterday when we first set up the luxurious, large tent in the parking lot of the Shanghai Conservatory of Music.
"From the very beginning, we and the municipal educational commission founded MISA in order to engage young people and introduce them to classical music.