Experimental new play casts audience members in roles
By XU LIN | China Daily | Updated: 2019-06-28 08:15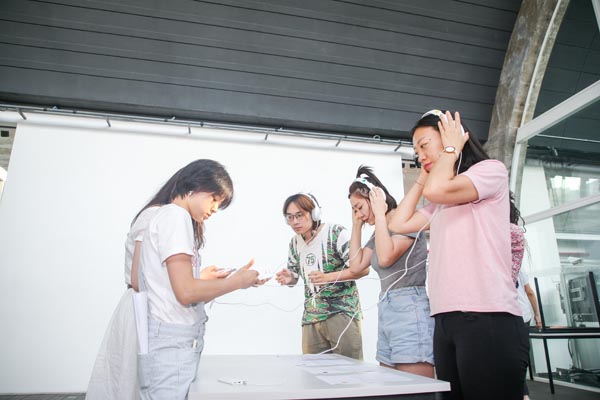 Ding Xinghui plays the role of a starving warthog which is trying to flee a conflict area. A mouse accompanying her dies before she finally finds meat to eat, but has no idea that it's actually another warthog that she's devouring. This is a scene from Where Do We Come From, What Are We, Where Are We Going 2.0, the latest play by theater director Wang Chong.
It recently premiered at the Goethe-Institut at Beijing's 798 art zone, as part of the ongoing exhibition Assemblage that focuses on migration issues related to China.
The 30-minute play was performed by audience members like Ding. There were four roles in all. Wearing headphones, they listened to audio instructions as they performed. They walked around the large hall at the Goethe-Institut, interacting with props and reciting their lines in Chinese.
"In a volatile situation, individuals are insignificant and have to compromise in order to survive," says Ding, 25, an office worker in Beijing, about her role.
"I like the innovative style of the play, which allows audience members to perform. It's like playing a game-I finish my task step by step in accordance with the requirements."
The play tells the story of a human, a mosquito, a warthog and a turtle, all from different countries. The four characters have no idea of each other's scripts and only have a few interactions in the play.
The play will be performed in South Korea and Russia from November, and overseas audience will also get the chance to perform in it while listening to instructions in their local language.
"I'm trying to pass on a concept," says Wang.
Since he founded Theatre du Reve Experimental in 2008, the avant-garde director has helmed various plays. This is not the first time he has tried to reduce the audience size for his work. When his Teahouse 2.0 debuted two years ago, some 11 audience members watched the play by over 40 performers in a middle school classroom.
"It offers a unique experience. For these audiences, their feelings are totally different from that in a traditional theater. They feel closer and more connected to the performers," he says.
"When you hear the recordings in my new play, other characters don't know what you're doing. It also shows that you often have to endure hardships in life on your own."