Joining the top brass
By Chen Nan | China Daily | Updated: 2019-07-08 09:44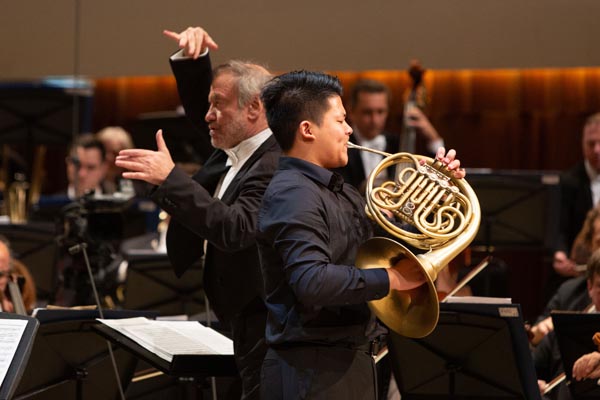 A Chengdu native who plays the French horn has made history by snapping up an award at the XVI International Tchaikovsky Competition in St. Petersburg, Chen Nan reports.
Chinese French horn player Zeng Yun won the first prize and gold medal in the brass category at the XVI International Tchaikovsky Competition in Russia on June 28.
Zeng, aged 19, who is studying at the Central Conservatory of Music in Beijing, was the first Chinese French horn player to win the prestigious title.
Besides Zeng, Chinese pianist An Tianxu came fourth in the piano category, while cellist Chen Yibai claimed fifth place in the competition's cello category.
Founded in 1958, the Tchaikovsky competition is an internationally celebrated classical music contest held every four years in Russia and is usually only open to pianists, violinists and cellists between the ages of 16 and 32, and singers aged 19 to 32.However, for the first time in more than 60 years, a brass category and a woodwind category have been added to the competition.
"The biggest surprise of the competition in the new categories was the young French horn player from China, Zeng Yun," Russian conductor Valery Gergiev said at the gala concert for the competition winners, which was held at the Mariinsky Theatre in St. Petersburg on June 29.
"I was very nervous the night before the final round of the competition. I skipped dinner and lost sleep," Zeng told Xinhua News Agency in an interview on Tuesday on his return to Beijing.
"It's the first time that brass instruments have been added to the competition and about 46 contestants attended the auditions in the category, which made the competition fierce," Zeng adds. "As a performer, I enjoyed my moments onstage during the competition. I tried to showcase my skills and my understanding of the music, which I have been learning for the past 13 years."