Turkey to ignore Trump and press on with Northern Syria offensive
By JONATHAN POWELL in London | China Daily Global | Updated: 2019-10-18 09:38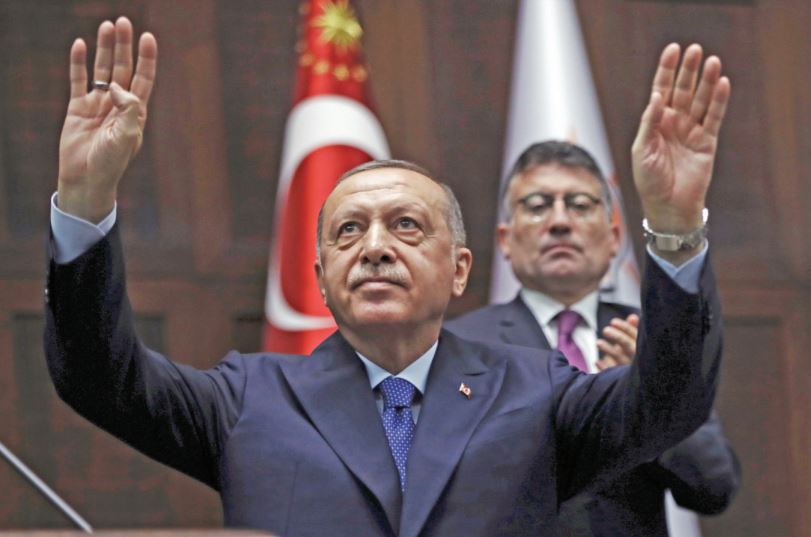 Turkish President Recep Tayyip Erdogan has vowed that a military offensive in Northern Syria will continue until his mission is complete, despite an outright threat received by letter from United States President Donald Trump.
Heavy fighting continues as Turkey pushes ahead with the operation, which on Friday is into its 10th day, against Kurdish fighters. The official letter from Trump was sent on the same day Erdogan launched the major offensive against the Kurds, but has only come to light now, as US Vice-President Mike Pence, and Secretary of State Mike Pompeo are in Ankara intending to meet the Turkish president.
Erdogan said the military action aims to remove the Kurdish-led forces from the border area and create a "safe zone" to which millions of Syrian refugees can be returned.
The offensive started after the US announced it was withdrawing its troops from the area, leaving the Syrian Democratic Forces, or SDF, its main ally in the battle against the Islamic State, or IS, armed group, without US military support.
In the letter that has been mocked and criticized in the US, Trump threatened the Turkey president, urging him to act only in "the right and humane way" in Syria.
It starts by suggesting they "work out a good deal", but then talks about crippling economic sanctions and concludes that the world "will look upon you forever as the devil if good things don't happen". It ends "Don't be a tough guy. Don't be a fool!"
In the US, many lawmakers have expressed worry that the withdrawal may lead to revival of IS as well as Russian presence and influence in the area-in addition to the killing of many Kurds.
Pence and Pompeo are now in Turkey, hoping to secure a ceasefire in Northern Syria.
"Our mission set is to see if we can get a ceasefire, see if we can get this brokered," Pompeo said in brief remarks before his plane took off from the US on Wednesday.
Pence's office said the US would pursue "punishing economic sanctions" unless there was an immediate ceasefire.
However, Trump appeared to undercut their negotiating position, saying the US has no business in the region and not to worry about the Kurdish fighters.
"If Turkey goes onto Syria, that's between Turkey and Syria, it's not between Turkey and the United States," Trump said on Wednesday. He added: "Let them fight their own wars."
Pence and Pompeo were scheduled to hold talks on Thursday with the Turkish president, but Erdogan had said he would not meet them.
Meanwhile, Erdogan will meet Russian President Vladimir Putin in the city of Sochi on Tuesday to discuss Syria, the Turkish president has said.
A Turkish spokesman told reporters that Turkey would never accept Syrian Kurdish fighters continuing to operate in Northeast Syria under the protection of Russian forces, should they replace US troops in the area.
Russia has moved quickly to further entrench its leadership role in the region after the pullout of US forces.