Ozil, badmouthing Xinjiang makes you look silly
By Zhang Zhouxiang | chinadaily.com.cn | Updated: 2019-12-14 21:29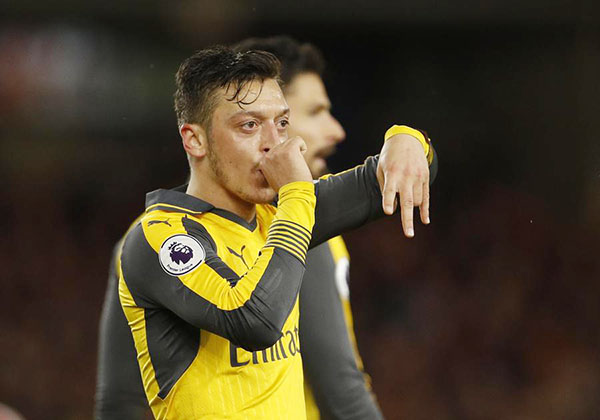 Mesut Ozil, a German football player of Turkish origin, stirred up trouble after posting on several social media accounts a "poem" that advocates separatism in Xinjiang Uygur autonomous region.
Within hours, the social networks had been flooded with the anger of Chinese who felt offended. Especially on micro blog, Ozil received so much backlash that the person handling his official account had to close commenting.
According to the translation of Chinese media outlets, Ozil openly supported "jihad" in Xinjiang. Let's see what evil his supported "jihadists" have done to this region that's home to people of multiple ethnicities.
The two documentaries released by CGTN about the fight against terrorism in Xinjiang best explain this. Through their lenses, people can see how terrorists in Xinjiang attack innocent, bare-handed passersby with long knives and heavy sticks.
How they teach a 6-year-old to kill with a gun.
How they drove a truck with bombs into groups of people, and then detonated it.
How they stopped cars on a road and killed the people inside one by one.
These attacks are never based on religion or ethnicity. They are, by every definition, terrorism, separatism and religious fundamentalism, enemies to all peace-loving people of this world.
The evil deeds of terrorists in Xinjiang are no secret to the world, and by every standard they should be defined as evil. As early as 2012, the Eastern Turkistan Islamic Movement (ETIM), which has planned the majority of the above-mentioned terrorist attacks, has been officially recognized by the United Nations as a terrorist group.
There is no accurate information about whether Ozil knows what the terrorists have done in Xinjiang or not. Perhaps he is just foolish enough to be brainwashed by certain Western media outlets into believing that terrorists harming Xinjiang are "freedom fighters". Perhaps he chooses to side with the devil even though he knows the bloody crimes they have committed in Xinjiang.
In the former case, certain Western media outlets should be ashamed of their bad ethical standards, while Ozil should be shamed of being silly. In the latter case, Özil himself should be ashamed for supporting the devil.
Perhaps to avoid drowning in the anger of Chinese people, Arsenal Football Club where Ozil serves quickly issued a statement via micro blog, saying that Ozil's words are purely his own and the club insists on not being involved in politics.
In its latest response, the Chinese Football Association also said that Ozil's words hurt the feelings of the Chinese and are unacceptable.
There is no official penalty to Ozil yet, but he will likely lose appeal to fans and decline in influence – a fair price for his words that support terrorism.
That should be a lesson to all "stars", in whatever field they serve.