2019 marks fruitful year of China-Cambodia cooperation
Xinhua | Updated: 2019-12-31 14:36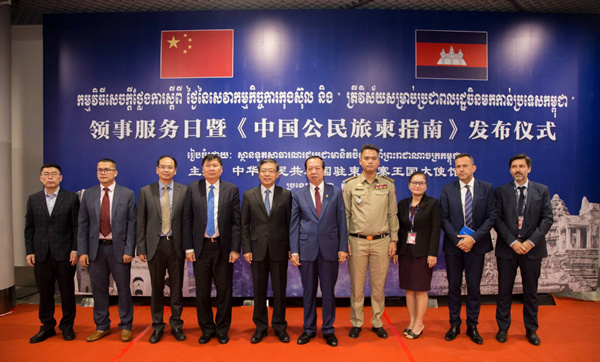 2019 marks the year of closer China-Cambodia cooperation in culture and tourism, Cambodian senior officials and experts said.
The two Asian countries designated 2019 as the "China-Cambodia culture and tourism year," and a variety of activities had been jointly organized to celebrate the year.
Closer tourism ties
Tourism Minister Thong Khon said a series of events such as exhibitions, forums, cultural performances, visit of 2,000 Chinese envoys to Cambodia, and a Chinese caravan tour, among others had been jointly held to mark the year.
"We can say that it's a fruitful year of cooperation in culture and tourism between the two countries," he told Xinhua in a recent interview. "We believe that through these events, more and more Chinese tourists will visit Cambodia, and vice versa."
The minister said Chinese tourists topped the list of foreign visitors coming to Cambodia in the first 10 months of 2019, with 2.02 million - a 24.4-percent increase year-on-year, accounting for 38 percent of all of Cambodia's international tourists.
"We expect to receive 2.5 million Chinese tourists in the entirety of 2019," he said. "The growth of Chinese tourists has greatly contributed to boosting Cambodia's economy and to reducing poverty via job creations."
Khon attributed the strong and steady growth of Chinese tourists to Cambodia to the excellent relationship between the two countries in combination with Cambodia's peace, political stability, and attractive tourist destinations.
Also, there have been 19 airlines operating some 500 direct flights per week between Cambodia and China.
Khon said nearly half of the Chinese tourists to Cambodia have spent their time sightseeing the Angkor archeological park in Siem Reap province, as the rest visited coastal areas, Phnom Penh, and other tourist sites.
"Please continue to come to Cambodia," he appealed. "Our country is full of peace and has so many tourist attractions, and our hospitality is good."
Meanwhile, the minister said the Southeast Asian nation wanted to see more Chinese investment in building leisure resorts, luxury hotels, and tourism schools.
Ek Tha, a spokesman for the Phnom Penh-based Asian Cultural Council, said 2019 is a milestone year for culture and tourism relations between the two countries.
"Closer culture and tourism ties will bring closer contact and better understanding between the peoples of the two Asian countries," he told Xinhua.
He said good cooperation in culture and tourism between the two nations should stand as a role model because culture plays a vital role in bridging friendship and diplomacy, as tourism plays a key role in attracting tourists and investors.