'National security excuse' hurts trade, Trump says
By ZHAO HUANXIN in Washington | China Daily Global | Updated: 2020-02-20 01:30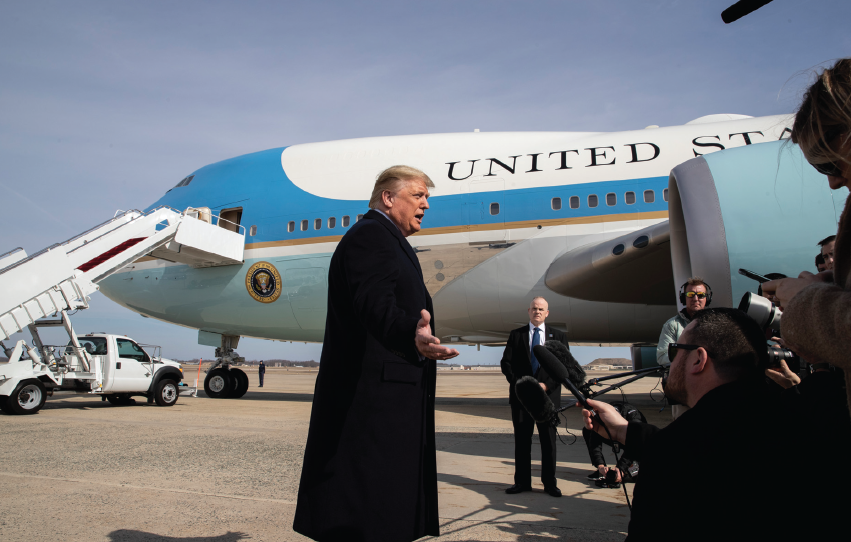 US President Donald Trump on Tuesday railed against proposed restrictions on trade with China, saying that his administration wanted to make doing business with China "easy'', including the sale of jet engines, instead of resorting to the "always used national security excuse".
"The United States cannot, & will not, become such a difficult place to deal with in terms of foreign countries buying our product, including for the always used National Security excuse, that our companies will be forced to leave in order to remain competitive," Trump tweeted Tuesday.
Trump's public rebuke through a flurry of tweets apparently followed reports over the weekend that his administration was weighing a proposal to halt deliveries of jet engines produced in part by General Electric Co for the COMAC C919 airliner being developed in China, over concerns that the Chinese could reverse-engineer the engines, posing a potential threat to US business.
"We want to sell product and goods to China and other countries. That's what trade is all about. We don't want to make it impossible to do business with us," Trump continued on his Twitter account.
"That will only mean that orders will go to someplace else. As an example, I want China to buy our jet engines, the best in the World," he wrote.
The New York Times reported on Sunday that top Trump administration officials will discuss whether to prevent the sale of an aircraft engine produced in part by GE at a cabinet meeting on Feb 28. It said stopping such licenses would be a big financial hit to companies like GE.
Officials also plan to discuss at the policy meeting whether to expand the scope of their restrictions on Chinese telecom company Huawei Technologies Co Ltd, according to the report.
"I have seen some of the regulations being circulated, including those being contemplated by Congress, and they are ridiculous. I want to make it EASY to do business with the United States, not difficult. Everyone in my Administration is being so instructed, with no excuses," Trump tweeted, without identifying the restrictions or the regulations.
GE shares turned lower again, closing down 0.6 percent at $12.75, in New York Stock Exchange trading. The Boston-based company did not immediately respond to requests for comment.
Late on Tuesday, Trump said that people should not be "carried away" with concerns about national security when it comes to doing business.
"But I will say that we're not going to be sacrificing our companies, for all of the growth and everything else — they're ready, they're exploding; they're doing so well –by using a fake term of national security," he told reporters.
"It's got to be real national security. And I think people were getting carried away with it," he said.
He added that he wanted US companies to be allowed to do business. "I mean, things are put on my desk that have nothing to do with national security, including with chipmakers and various others," he said.
The Semiconductor Industry Association (SIA), whose members account for nearly 95 percent of US semiconductor company sales, applauded Trump's tweets supporting sales by US companies to China and opposing proposed regulations that would unduly curtail that ability.
"As we have discussed with the administration, sales of non-sensitive, commercial products to China drive semiconductor research and innovation, which is critical to America's economic strength and national security," SIA President and Chief Executive Officer John Neuffer said in a statement.
In Beijing, Chinese Foreign Ministry spokesperson Geng Shuang said Beijing urged Washington to view Chinese companies and China-US business cooperation "objectively and fairly", and be a "constructive contributor rather than an irrational spoiler".
"We noted this report," Geng said about the media report of the proposed blocking of the jet-engine sales. "It also says that GE is arguing against the possible move of the US government, saying that mimicking the advanced manufacturing techniques that have produced the engine is far harder than some administration officials believe."
Geng added that GE also has argued that the engines have been on the ground in China for years, meaning there is no reason for China to wait until now to begin the reverse-engineering if it had wanted to do so.
If the content of the report is true, it suggests that Americans in industrial sectors seem to have more common sense, and be more sensible and likely to tell the truth than certain officials in the US administration, the spokesperson said.
"These officials are ignorant about science and technology and of the market principle, and they are also worried about China's development," Geng said. "It will be another example of the US using political means to undermine its bilateral business cooperation with China and wantonly oppress Chinese businesses."