Billionaires, Russia topics at Dem debate
By WILLIAM HENNELLY in New York | chinadaily.com.cn | Updated: 2020-02-26 12:36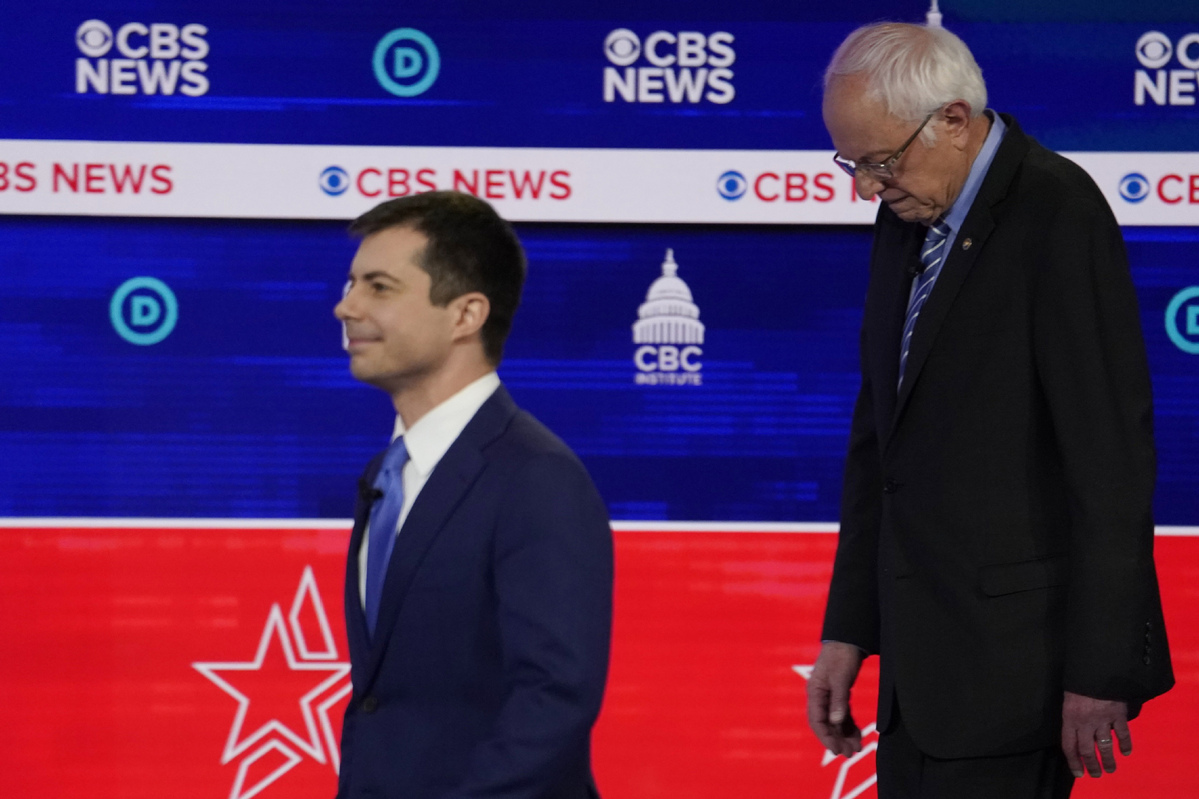 It was Bernie Sanders' turn Tuesday to face attacks on a Democratic presidential debate stage, less than a week after Michael Bloomberg withstood an onslaught of criticism in the previous debate.
While Sanders said he was "hearing my name being mentioned a lot, I wonder why", Bloomberg also faced another round of jabs in what was a raucous debate.
Both men also frequently went after each other at the party's 10th debate of the 2020 campaign in Charleston, South Carolina.
Sanders opened with an economic salvo: "The economy is doing really great for people like Mr Bloomberg and other billionaires. For the ordinary American, things are not so good. Half our people are living paycheck-to-paycheck; 500,000 people are sleeping on the street, including 30,000 veterans."
Bloomberg parried by saying: "Vladimir Putin thinks that Donald Trump should be president of the United States, and that's why Russia is helping you get elected so you lose to him."
"Hey Mr Putin, if I'm president of the United States, trust me, you're not going to interfere in any more elections," Sanders replied.
Both men also dominated the speaking time through the debate's first hour.
A common thread Tuesday was was whether a progressive or democratic socialist candidate could get enough votes in the general election.
Bloomberg argued that he couldn't see moderates or Republicans voting for Sanders in November.
"You have to do that to win," Bloomberg said. "Bernie will lose to Donald Trump ... and the House and the Senate and some of the statehouses will all go red, and then between gerrymandering and appointing judges, for the next 20 or 30 years we are going to live with this catastrophe."
"Of the last 50 polls that have been done nationally, I beat Trump 47 times," Sanders responded.
"They are running away from your platform as fast as they can," Pete Buttigieg, former mayor of South Bend, Indiana, said about Sanders in reference to the 40 House Democrats elected in 2018, who helped the party capture the House of Representatives.
Warren defended the progressive agenda, but also took a swipe at Sanders.
"I think I would make a better president than Bernie. And the reason for that is that getting a progressive agenda enacted is going to be really hard," she said. "I dug in, I did the work, and then Bernie's team trashed me."
"Bernie Sanders' analysis is right. The difference is I don't like his solutions," said billionaire environmentalist Tom Steyer. "I don't believe that a government takeover of large parts of the economy makes any sense for working people or for families."
Sanders, 78, a US senator from Vermont who has momentum after strong showings in all three contests so far — Iowa, New Hampshire and Nevada — pressed his signature issues of Medicare for all, free college tuition and raising the minimum wage.
How Sanders performs in Saturday's primary in South Carolina could go a long way toward determining if he can capture nationwide support.
A Reuters/Ipsos poll conducted Feb 19-25 showed 26 percent support for Sanders and 15 percent apiece for former vice-president Joe Biden and Bloomberg.
Biden, 77, buoyant after a second-place finish in Nevada following middling showings in the first two contests, has been looking to the Palmetto State to propel him.
Biden is expecting strong support from the state's African American voters, who make up a majority of the state's Democratic electorate.
Biden went after Sanders on gun control: "Bernie voted five times against the Brady bill," a reference to a 1993 measure that required mandatory background checks and waiting periods for firearms purchases.
Biden also spoke about a 2015 massacre by a white supremacist at a black church in South Carolina in which nine people were killed.
Bloomberg, 78, the billionaire former mayor of New York City, was looking to bounce back from what many perceived was an unprepared performance in Las Vegas. He offered up a couple of self-deprecating jokes.
The financial news company founder once again was pressed on the NYPD policy of "stop and frisk" when he was mayor and also about the dozens of non-disclosure agreements reached over allegations of sexual harassment at his company.
"I have been training for this job since I stepped on the pile that still was smoldering after 9/11," Bloomberg said, in reference to the Sept 11, 2001, terrorist attacks in New York City. He became mayor a few months afterward.
Warren also accused Bloomberg of supporting Republican senatorial campaigns, such as those of Lindsey Graham in South Carolina, and Scott Brown in Massachusetts — who ran against Warren.
Sanders continued to press his case against billionaires, and said Buttigieg has "gotten funding from over 50 billionaires; Joe, I think, has gotten a little more".
"Authoritarianism of any stripe is bad," said Sanders, who faced criticism about saying that not everything in Fidel Castro's Cuba was bad.
"Occasionally, it might be a good idea to be honest about American foreign policy, and that includes the fact that America has overthrown governments all over the world," Sanders said.
On the coronavirus, Sanders said: "In the White House today, we have a self-described 'great genius.' This great genius has told us that this coronavirus is going to end in two months."
(Trump responded with a tweet during the debate that the administration is doing "a GREAT job" battling the virus.)
Senator Amy Klobuchar of Minnesota said Trump's "worst fear" is having someone the middle class can vote for.
The candidates also debated gun control, charter schools and affordable housing.
On the 2008 financial crisis, Warren said that Bloomberg blamed it on ending the practice of "red-lining", a practice in which banks decline mortgages in certain geographic areas, often ones populated by racial minorities.
The field could get substantially thinner starting next Tuesday, March 3, when "Super Tuesday" takes place. Fourteen states in a wide geographic swath will hold primaries that day: Alabama, Arkansas, California, Colorado, Maine, Massachusetts, Minnesota, North Carolina, Oklahoma, Tennessee, Texas, Utah, Vermont and Virginia.
California and Texas are huge prizes, and if one candidate were to win both, that politician's campaign likely could start booking hotel rooms in Milwaukee, Wisconsin, for the Democratic National Convention (July 13-16).
For all the talk of a possible "floor fight" at the convention (in the event that a candidate does not have enough delegates to be selected on the first ballot), the race for now seems Sanders' to lose.
The debate was held at the Gaillard Center in Charleston and carried by CBS, BET and Twitter; and co-sponsored by the Congressional Black Caucus Institute. The moderators were CBS Evening News' Norah O'Donnell, CBS This Morning's Gayle King, Face the Nation's Margaret Brennan, CBS chief Washington correspondent Major Garrett, and 60 Minutes' Bill Whitaker.