Cannot drop guard against the outbreak: China Daily editorial
chinadaily.com.cn | Updated: 2020-04-06 22:04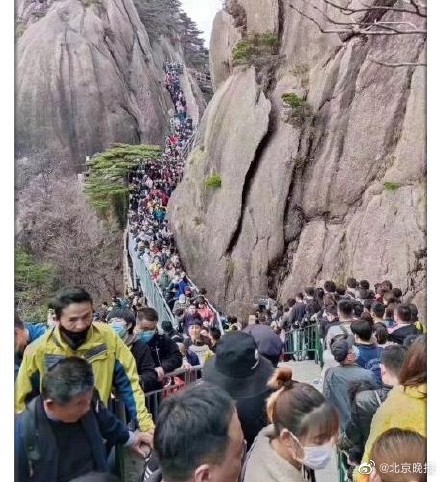 Weeks of self-quarantine can make people desperate to spend time in the open. And what better place to do so than the mountains with their expansive vistas and fresh air?
Yet it is too early to throw caution to the winds, for the novel coronavirus has not been completely contained. The fear of infections still looms.
It was surprising therefore to see more than 20,000 people flocking to the Huangshan scenic area in Anhui province on Sunday. Such was the rush that the scenic spot management had to issue four notices in a day to remind potential visitors about the site's temporary closure.
Even one asymptomatic person can infect many people in places such as the scenic spot — who in turn can infect many more — and compromise all the prevention and control measures taken by the central and provincial authorities to contain the virus.
And a video uploaded online with footage of the cheek-by-jowl crowd showed how high was the risk of infection at the scenic spot on Sunday.
The entry to Huangshan scenic spot is reportedly free for residents of Anhui province. But given the risk of infection, a free trip to the scenic spot is by any yardstick not worth taking.
People's longing for the outdoors after being confined to the four walls of their homes is understandable. However, people making a dash for parks and scenic spots in many cities need to pause and reflect on the consequences of their hazardous behavior, such as not wearing face masks — some were seen without masks in the Huangshan video on Sunday.
True, Anhui has not reported any new infections for weeks. But that does not mean there is no risk of infections, especially because imported infections and asymptomatic cases both are increasing on the Chinese mainland — from 30 on Saturday to 39 on Sunday, and from 47 on Saturday to 78 on Sunday respectively.
The humongous efforts tens of thousands of medical workers and municipal staff have made to largely contain the virus in China could be wasted if people become careless.
The rules we have been following for weeks still apply: wearing face masks when going out, and washing our hands and disinfecting our clothes when we return home. Taking precautions against infection is the least we can do to ensure the country wins the fight against the virus.
Since the rise of asymptomatic cases on the mainland means the fight against the epidemic is still a challenge, we cannot afford to drop our guard against the virus.