Calls for urgency as UK govt launches furlough grants
By JONATHAN POWELL in London | China Daily Global | Updated: 2020-04-21 09:40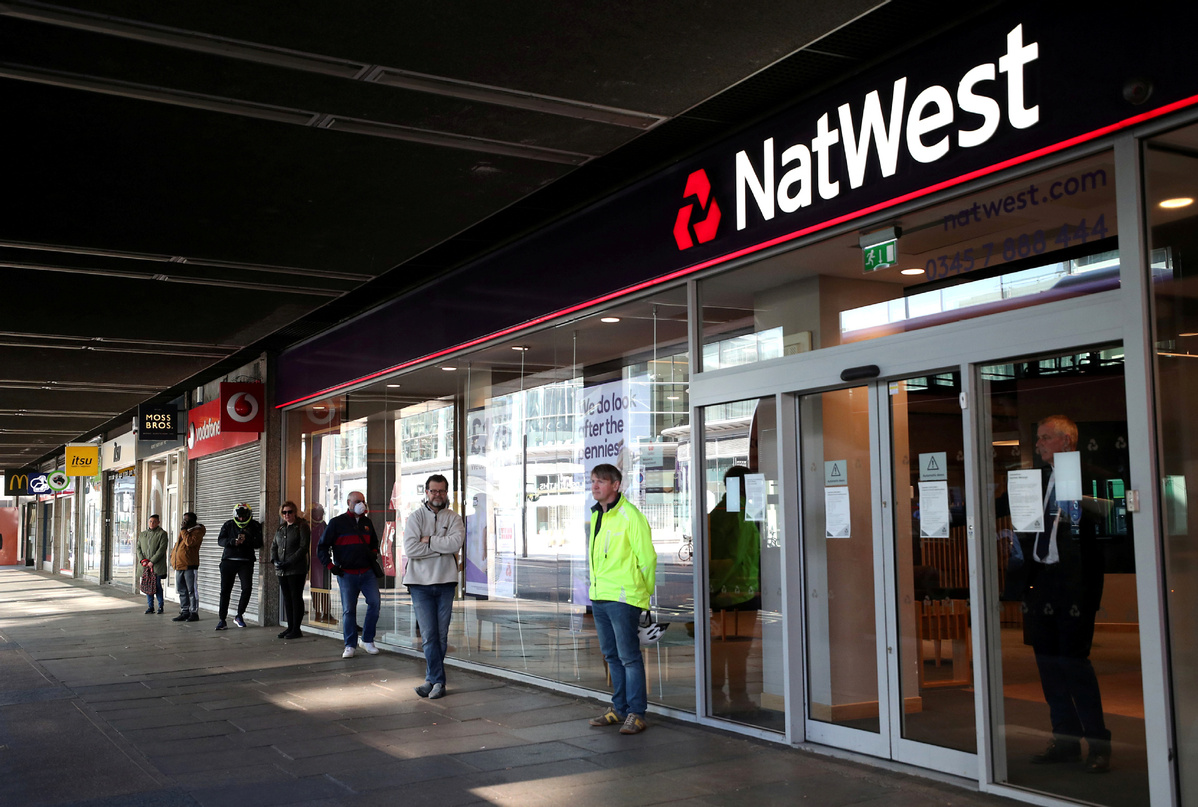 Britain's program to help protect jobs during the novel coronavirus crisis started on Monday with estimates of its cost ranging from about 42 to 50 billion pounds ($52 to $62 billion).
At a news briefing on Monday, Chancellor of the Exchequer Rishi Sunak said "we've never seen an economic crisis like this one" and that the government wants to "protect as many people as possible in their existing jobs", and to help businesses stay afloat and those who are self-employed too.
The furlough program would help pay the wages for more than a million people, and that more than 140,000 companies had applied on the first day, he said.
The system will pay 80 percent of workers' wages, or up to 2,500 pounds a month, if they are put on leave from their regular employment.
The United Kingdom government has received praise for its plans to mitigate the economic fallout of the novel coronavirus, but companies warn the support is needed quickly.
According to Adam Marshall, director general of the British Chambers of Commerce, research indicates that, "two-thirds of firms have furloughed some portion of their workforce".
Rain Newton-Smith, the Confederation of British Industry's chief economist, said: "Ensuring support gets to where it's needed most-fast-is of the utmost importance."
Sunak added the Treasury has been "sowing the seeds of our ultimate recovery", adding that "entrepreneurship will drive the UK's economy recovery".
He also addressed the ongoing personal protective equipment, or PPE, issue, saying the government is "working to resolve" the issue of a batch stuck in Turkey due to "unexpected delays". He added regular shipments were arriving and that it is an "international challenge" for all countries.
The UK's Department of Health and Social Care announced another 449 patients have died in the nation's hospitals after contracting the virus, bringing the total to 16,509.
The latest death figures came as the government announced that mortuaries will be expanded by 30,000 spaces during the pandemic. The BBC said that this is a precautionary measure rather than a prediction of how many people will die.
Public Health England has said it is to start recording novel coronavirus cases and deaths by ethnicity. It comes after research suggests people from black, Asian and minority ethnic backgrounds are at greater risk of becoming seriously ill with COVID-19. The government has commissioned an investigation into the issue.
A study from the Intensive Care National Audit and Research Centre found that 34 percent of more than 4,800 critically ill patients with COVID-19 identified as black, Asian or minority ethnic.
Chaand Nagpaul, chair of the British Medical Association, said it was vital to find out why ethnic minorities are disproportionately affected.
"We must do everything we can now to prevent further deaths," he said.
British Prime Minister Boris Johnson could be back to work "before the end of next week" and wants to lead the UK out of the lockdown, a source told the Sun newspaper.
The prime minister is currently recovering from COVID-19 at his country retreat, Chequers, after being admitted to intensive care for persistent symptoms of the disease.
Several British newspapers on Sunday reported on a "traffic light" strategy, supposedly drawn up by government scientists, to ease Britain out of lockdown in three stages, starting in mid-May. Ministers have refused to discuss publicly when and how they aim to end the lockdown, which is hugely damaging to the economy and now in its fourth week.
Meanwhile, The Guardian reported that the National Health Service could be faced with billions of pounds of medical negligence claims if it does not grant some form of legal immunity to medics, the government has been warned.
The paper said that the Medical Defence Union is calling for a debate over the need for emergency legislation.