Experts investigate vibrations on major bridge in Guangdong
By Zheng Caixiong in Guangzhou | China Daily | Updated: 2020-05-07 09:29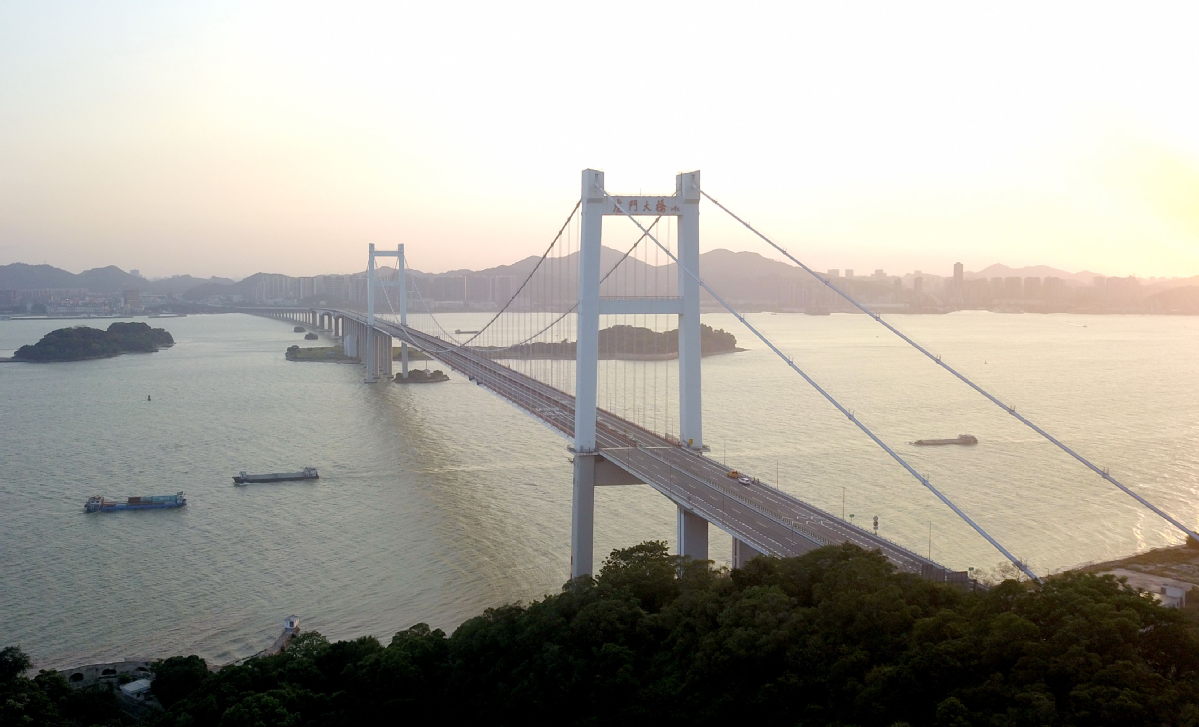 Pearl River Delta span will remain closed until safety can be ensured
Humen Bridge, a major artery linking the western and eastern parts of the prosperous Pearl River Delta, remained under traffic control as small vibrations continued to be felt in the bridge on Wednesday.
An investigation of the bridge's vibrations is underway, according to the Guangdong Provincial Department of Transportation.
"Bridge experts are now busy collecting and analyzing relevant data to help find the causes of the vibrations and further evaluate the bridge's safety," the department said.
"The two-way, six-lane bridge will resume traffic only when the causes of the vibrations have been investigated to the fullest extent and the safety of the bridge is ensured," it said.
Authorities have urged drivers who had planned to cross the Humen Bridge to take detours to avoid delays.
Meanwhile, the Guangzhou maritime department has closed the water channels under the bridge as a precautionary measure.
No vessels were allowed to operate or be moored in the waters near the bridge, and maritime vessels have expanded their patrols in the waters, the city's maritime authority said on Wednesday.
Humen Bridge was first closed when an unusual vibration was first reported at about 2 pm on Tuesday. More vibrations were reported later at night, according to the Guangdong transportation department.
The department then brought 12 bridge experts to investigate the vibrations.
"An initial investigation has indicated the main structure of the bridge remains intact after the vibrations," and the vibrations were likely caused by wind vortexes, the department said.
Bridge experts said it was normal for the bridge to shake under special wind conditions, and the vibrations have little effect on the structural safety and durability of the span.
Jia Yong, a local bridge architect, said Humen Bridge lies in a typhoon prone area, but that was fully considered before construction started and, therefore, the bridge's wind resistance coefficient must be very high.
"Many domestic bridges are usually designed to have a life span of more than 100 years, and Humen Bridge has been in operation for only 23 years," he told local media.
The bridge, which runs across the mouth of the Pearl River, is a major artery connecting the cities of Shenzhen, Dongguan and Huizhou in the eastern part of the Pearl River Delta with Guangzhou's Nansha district as well as the cities of Zhuhai, Foshan, Zhongshan, Jiangmen and Zhaoqing in the west.
It plays an important role in strengthening the infrastructure connectivity in the Guangdong-Hong Kong-Macao Greater Bay Area that includes nine Guangdong cities and the Hong Kong and Macao special administrative regions.
The bridge, which spans 4.6 kilometers, was completed in June 1997.It was designed for vehicles at speeds of 120 kilometers an hour and can accommodate 80,000 vehicles daily, though it has had major traffic jams during holidays and rush hours.