WHO left in the dark over Trump pull-out move
By CHEN WEIHUA in Brussels | chinadaily.com.cn | Updated: 2020-06-02 03:07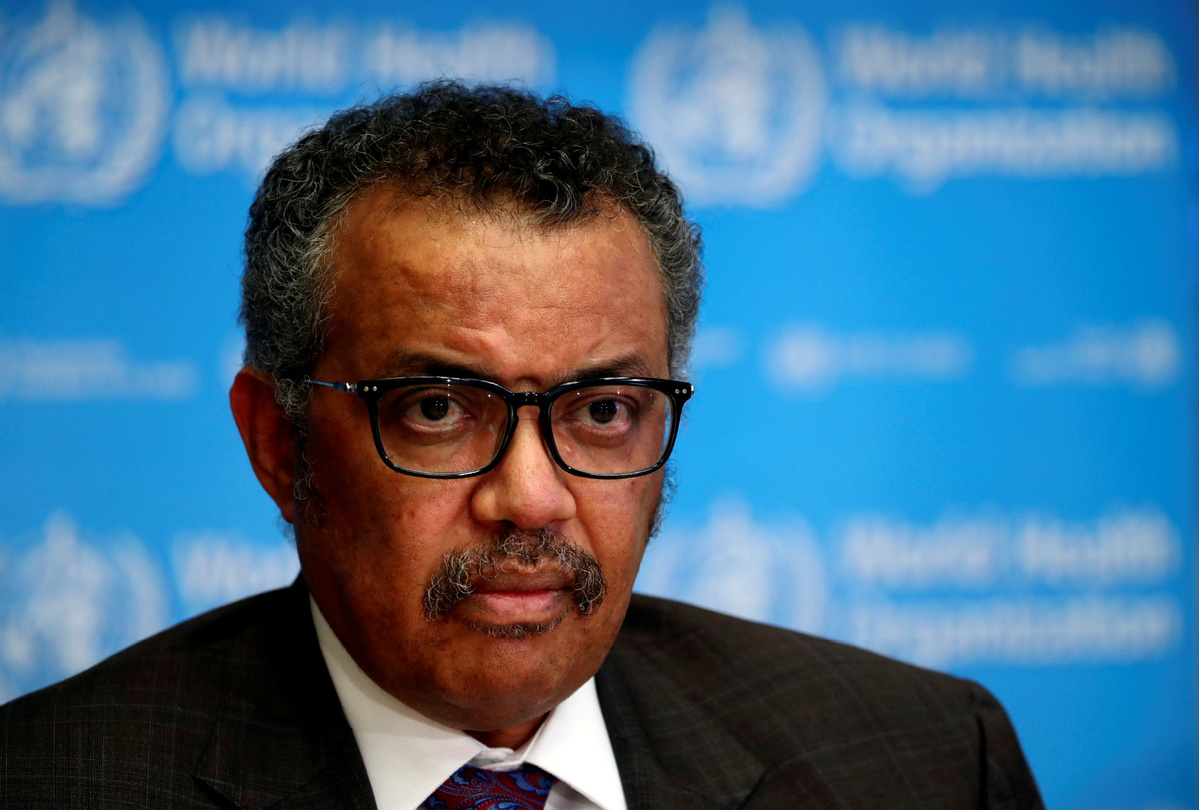 Doubts raised over presidential power to quit organization
The head of the World Health Organization said on Monday that the organization hopes to continue its longstanding cooperation with the United States despite Friday's announcement by US President Donald Trump that he planned to cut ties with the United Nations' global health agency.
In a speech in the White House Rose Garden, Trump said the US has detailed the reforms that the WHO must make and engage with them directly.
"But they have refused to act because they have failed to make the requested and greatly needed reforms," Trump said in a news conference where he spent most of the time attacking China.
"We will be terminating our relationship with the World Health Organization and redirecting those funds to other worldwide and deserving urgent global public health needs."
In a four-page letter to WHO Director-General Tedros Adhanom Ghebreyesus on May 19, Trump warned that he would cut US funding to the WHO permanently and reconsider US membership if the organization did not commit to substantive improvements within 30 days.
On Monday, Tedros said that the world has long benefited from the strong, collaborative engagement with the government and people of the US.
"The US government and people's contribution and generosity towards global health over many decades has been immense, and it has made a great difference in public health all around the world," Tedros said in his opening speech in a virtual news conference from Geneva. "It is WHO's wish for this collaboration to continue."
Tedros indicated that he also got the information from Trump's news conference on Friday and that was the "only communication" from the US government, which appears to have not informed the WHO directly of the decision.
Tedros would not answer a question about the process for a member country withdrawing from the WHO, saying that "for the moment, what I have said in my speech would be enough".
He told the reporter that if she needs additional information regarding the process, it could be done at another time.
Larry Gostin, director of the O'Neil Institute for National and Global Health Law at Georgetown University, described Trump's announcement as "an overreach of his constitutional powers".
Speaking on National Public Radio on Friday, Gostin said he believes Trump may need congressional approval to terminate US membership of a UN agency.
"The only situation where he can do this is if Congress had agreed beforehand to give these powers to the president," Kelley Lee, a professor of public health at Simon Fraser University, told NPR.
Gostin said that if Trump follows through with his threat, Congress could sue him in federal court over the matter, but added that Trump would still have succeeded in halting US funding until the courts decide.
Trump's announcement drew sharp criticism both at home and abroad. European Commission President Ursula von der Leyen and European Union foreign policy chief Josep Borrell on Saturday urged the US to reconsider its announced decision.
"Global cooperation and solidarity through multilateral efforts are the only effective and viable avenues to win this battle the world is facing," they said in a joint statement, referring to the fight against the COVID-19 pandemic.
They said that the WHO needs to continue being able to lead the international response to pandemics, current and future.
For this, "the participation and support of all is required and very much needed", they said, adding that "actions that weaken international results must be avoided".
According to figures released by the WHO on Monday, so far the world has reported more than 6 million cases of COVID-19 and more than 370,000 deaths. The US, with more than 1.7 million cases and more than 101,000 deaths, was on top of both lists.