Western 'rule of law' far from reality
By Kuoyou Watson | chinadaily.com.cn | Updated: 2020-06-04 15:54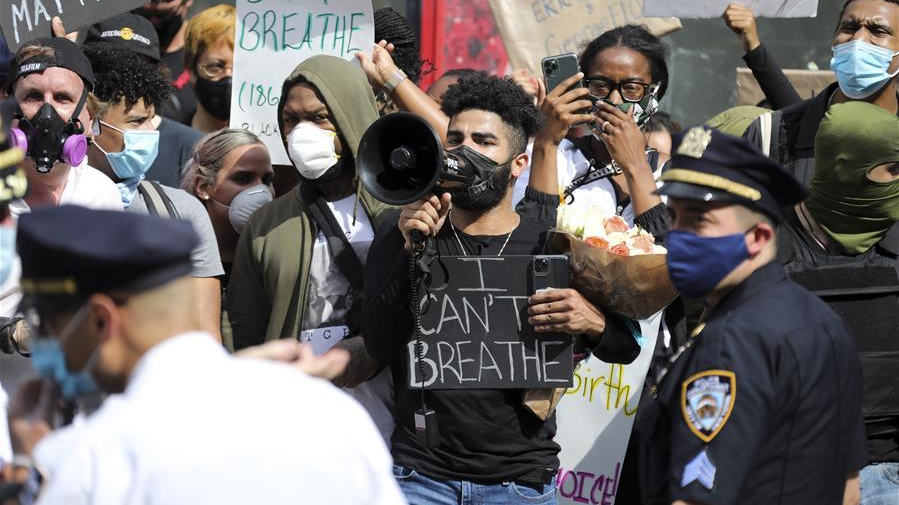 The ongoing protests in US cities have been widely reported as an outpouring of grievances against racism, a condemnation of police brutality and a vote of no confidence in the Trump administration. They certainly are; more fundamentally, however, they expose injustices that have been going on for so long that their victims -- the disadvantaged and vulnerable segments of society -- have no choice but to engage in widespread protest to vent their frustration, anger, disillusion and despair with a failed justice system.
US politicians and their like-minded supporters often hold up their brand of "rule of law" as a role model for the rest of the world. But a look at the country's brief history does not support such self-designation.
Police violence against African-Americans has been a fact of life in the US for a long time. As late as the 1960s, police violence was so pervasive that Civil Rights movement leader Martin Luther King Jr. dreamed in his famous 1963 March on Washington speech of a day without "the horrors of police brutality". In recent years, despite meager improvements in African Americans' livelihoods through affirmative action and other legislation, this long-standing ill shows no sign of going away; in fact, it has occurred with increased regularity. In 1991 African American Rodney King was savagely beaten by Los Angeles police officers during an arrest; in 2014, unarmed 18-year-old African American Michael Brown was fatally shot; in 2015 six Baltimore Police Department officers killed 25-year-old African American resident Freddie Gray. According to a CBC tally, there were at least 14 high-profile police-related deaths of African Americans in 2014-2015 alone.
As a cornerstone of rule of law, the police should be impartial in enforcing law and protecting people's lives. Discriminatory policing practices in the US make for a flawed justice system from ground up.
If abuse of policing power compromises rule of law at the foundation, the US judiciary's biased rulings in cases involving excessive use of force by police have the effect of perpetuating injustice. The police officers involved in King's beating were acquitted the following year. No charges were filed against the white officer who killed Michael Brown in 2014. Charges against the Baltimore police officers who killed Freddie Gray were dropped. Is it any wonder, then, that these rulings sparked widespread protests, some of which lasted weeks and turned violent? Viewed in this light, the ongoing protests are just the latest in a long series of sporadic and ineffective struggles against systemic miscarriages of justice.
The "independent" judiciary's condoning of violence against an underclass has historical parallels. Slavery was practiced with full legality for almost a century before it was abolished in 1885. The racist Jim Crow Laws were in effect in the US South through the 1950s. Lynching of African-Americans was rampant during Reconstruction and continued with impunity well into the 1960s. By acquitting or not charging offending police officers, the US justice system appears set to allow a history of racial injustice to remain a recurring source of public outcry and civil disobedience. The question is: why?
In the past, when entire economies depended on slave labor, slavery was considered a necessity and all evil associated with it had to be tolerated by law. Once their labor was no longer required, black people became dispensable and Jim Crow and their lynching went unabated for decades. Today, with rising racial tensions, widening inequality and a deteriorating economic outlook, law and order trump all other considerations. If it takes use of excessive force to maintain order, its victims are simply out of luck. The justice system answers to those in power, not marginalized groups like those of African descent.
Such failings are not unique to the US. In Canada, illegal land grabs went on for centuries despite the principles laid down in the Royal Proclamation of 1763 for the government to enter treaties with indigenous peoples for land acquisition. Today, the Supreme Court of Canada recognizes indigenous land titles and rights, but resource development projects trampling on such rights are often allowed to proceed, as the court's recent rulings on the Trans Mountain and Coastal GasLink pipeline projects demonstrate. Cultural genocide in the form of residential schools was legal for over a century in support of policies to assimilate indigenous youth. Despite repeated calls over the past four decades, the Royal Canadian Mounted Police has yet to inquire into the hundreds of cases of missing and murdered indigenous women, though its officers are known for being overzealous in using force against people of indigenous descent. The Canadian justice system's failure to protect First Nations' rights makes it an accomplice in the past and ongoing wrongs committed against them in this country.
The latest spate of widespread protests of police brutality in the US and elsewhere reminds us rule of law and justice are practiced selectively in many parts of the free world; as such they are more rhetoric than reality.
The author has a master's degree in International Relations from the University of Cambridge. He currently teaches in Canada and contributes to the press on current affairs.
The opinions expressed here are those of the writer and do not represent the views of China Daily and China Daily website.