Public viewing in Houston for Floyd on Monday amid calls for change
By AI HEPING in New York | China Daily Global | Updated: 2020-06-08 11:31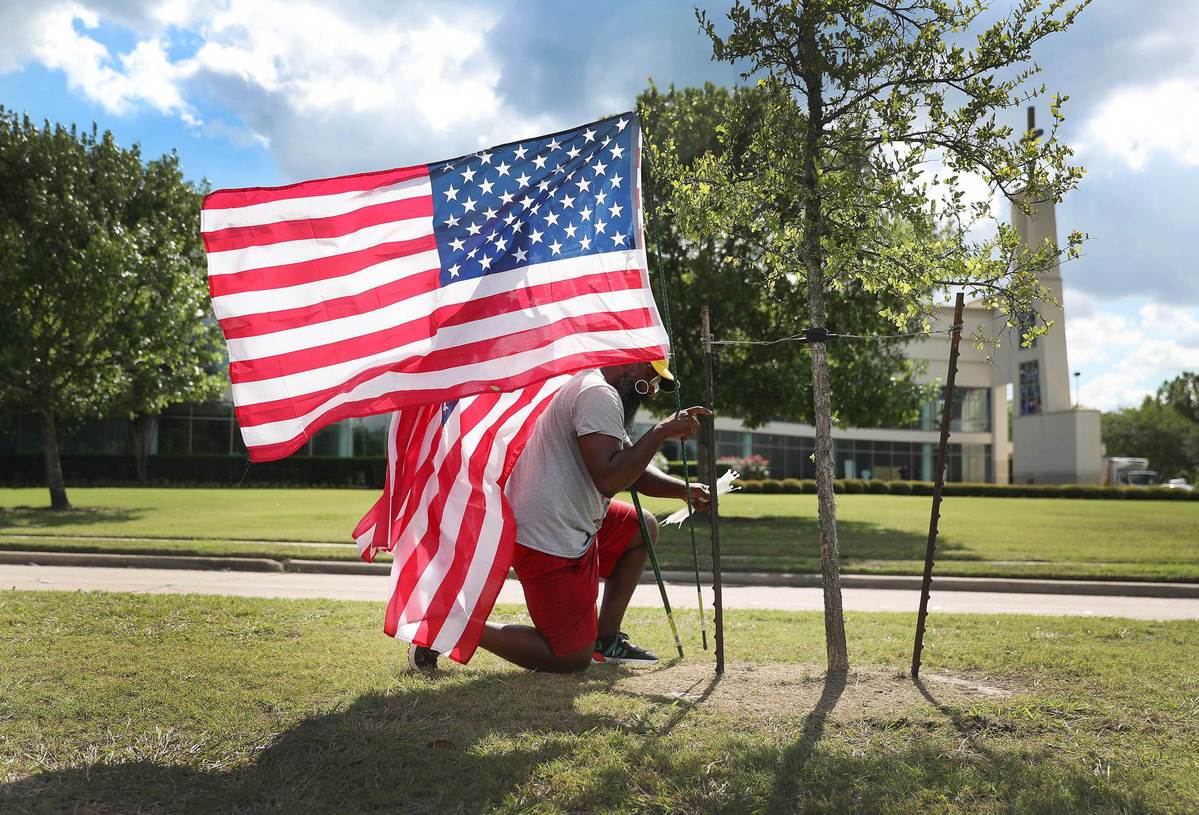 A public viewing will be held Monday in George Floyd's hometown of Houston, Texas, followed by an invitation-only memorial service and burial on Tuesday.
Both the public viewing and the funeral will be held at The Fountain of Praise church. The Floyd family is inviting guests, and the church is expecting dignitaries and celebrities to attend.
Former vice-president Joe Biden will give his condolences to Floyd's family on Monday. Biden, who recently secured enough delegates to clinch the Democratic presidential nomination, will also record a video message for Floyd's funeral service Tuesday, according to a Biden aide.
Floyd, 46, was a black man who died May 25 after a Minneapolis, Minnesota, police officer, Derek Chauvin, held his knee on Floyd's neck for more than eight minutes. In a video, Floyd begs as he is pinned on the ground: "Please, please, please. I can't breathe."
His death has sparked protests around the world against police brutality and racism.
On Saturday, tens of thousands of people marched in cities and small towns across America in the largest demonstrations so far after his death. Crowds attended mostly peaceful protest rallies in New York, Washington, Los Angeles, Chicago and Philadelphia, Pennsylvania.
Following several days of largely peaceful protests, New York Mayor Bill de Blasio announced Sunday that he was lifting the city's 8 pm curfew "effective immediately". Other cities — including Chicago, Philadelphia, and Buffalo, New York — also lifted curfews.
President Donald Trump said Sunday that he had ordered the National Guard to begin withdrawing from Washington after a week of widespread criticism over his threat to militarize the government's response to protests across the country.
Relatedly, two top New York Times Opinion section editors left their posts over publishing an essay titled "Send In the Troops" by Republican Senator Tom Cotton of Arkansas that endorsed such a federalized response to local protests.
Democrats in Congress were said to preparing legislation designed to rein in police misconduct, but the bill's authors stopped short of endorsing the slogan "defund the police", which has been used at protests nationwide.
"I don't believe that you should disband police departments," said Karen Bass, a California Democrat and chairwoman of the Congressional Black Caucus, Sunday on CNN. "We need to look at how we are spending resources and invest more in our communities."
Separately, de Blasio also said Sunday that he would cut the New York Police Department's $6 billion budget in order to spend more on social services.
Likewise, a vetoproof majority of the Minneapolis City Council announced before a crowd Sunday its intention to disband the city's police department, replacing it with a new system of public safety, though the nine members said that they did not have plans to announce what that new system would look like.
"It is clear that our system of policing is not keeping our communities safe," said City Council President Lisa Bender. "Our efforts at incremental reform have failed, period."
The Houston church where the public viewing for Floyd's funeral will take place Monday is taking various precautions because of COVID-19.
"This will be the largest gathering in The Fountain of Praise since COVID has hit our country," said Dallas Jones, a Fountain of Praise spokesperson. "We ourselves are not even worshiping weekly in our sanctuary, and so it is important that if we are going to open it up for this, that we ensure people are safe," Jones said.
Only 500 people will be allowed in the church from noon to 6 pm at any given time during the public viewing. They will be asked to wear face coverings and gloves and to practice socially distancing.
On Tuesday, a private celebration will be held at 11 am. Floyd will then be buried in Pearland, about 15 miles from the church.
"We want them to be able to come in a very reverent way to pay their respects for what should have been a ceremony, a service that we should not be having," Jones said.
On Saturday inside a church in Raeford, just outside Fayetteville, North Carolina, where Floyd was born, family members, public officials and clergy gathered for a song-and prayer-filled private memorial service. Floyd's body was in a closed gold coffin.
Before the service, his open coffin was placed in the center of the lobby, where public mourners were allowed in groups of 10 and asked to wear a face covering.
A crowd of peaceful demonstrators lined the road outside. A group of black men on horses rode into the parking lot, followed a few minutes later by a local motorcycle group. Flowers and signs lined the street, including one that read:"George Floyd changed the world."
As a hearse carrying Floyd's coffin arrived, mourners chanted "Black power" and "No justice, no peace".
At the memorial service, the Reverend Dr Christopher Stackhouse gave the eulogy, referring repeatedly to the day Floyd died as somehow "different".
"Although it took 8 minutes and 46 seconds for him to die, it took 401 years to put the system in place," Stackhouse said. But, the minister said, "Something was different about that day.
"A movement is happening in America, and I'm glad that all of us can say that it was George Floyd that sparked a fuse," he said, adding that his death and the ensuing protests across the country have sparked conversations between black parents and their children about racism.
"Enough. Don't let the life of George Floyd be in vain. It has become a sacrifice," said Hoke County Sheriff Hubert Peterkin. Addressing law enforcement officers, Peterkin said they need to say these six words: 'We are part of the problem.'"
Andrew Cohen in New York contributed to this story.