Property giant shifts gears to catering robotics
By ZHOU MO in Foshan, Guangdong | CHINA DAILY | Updated: 2020-06-23 09:06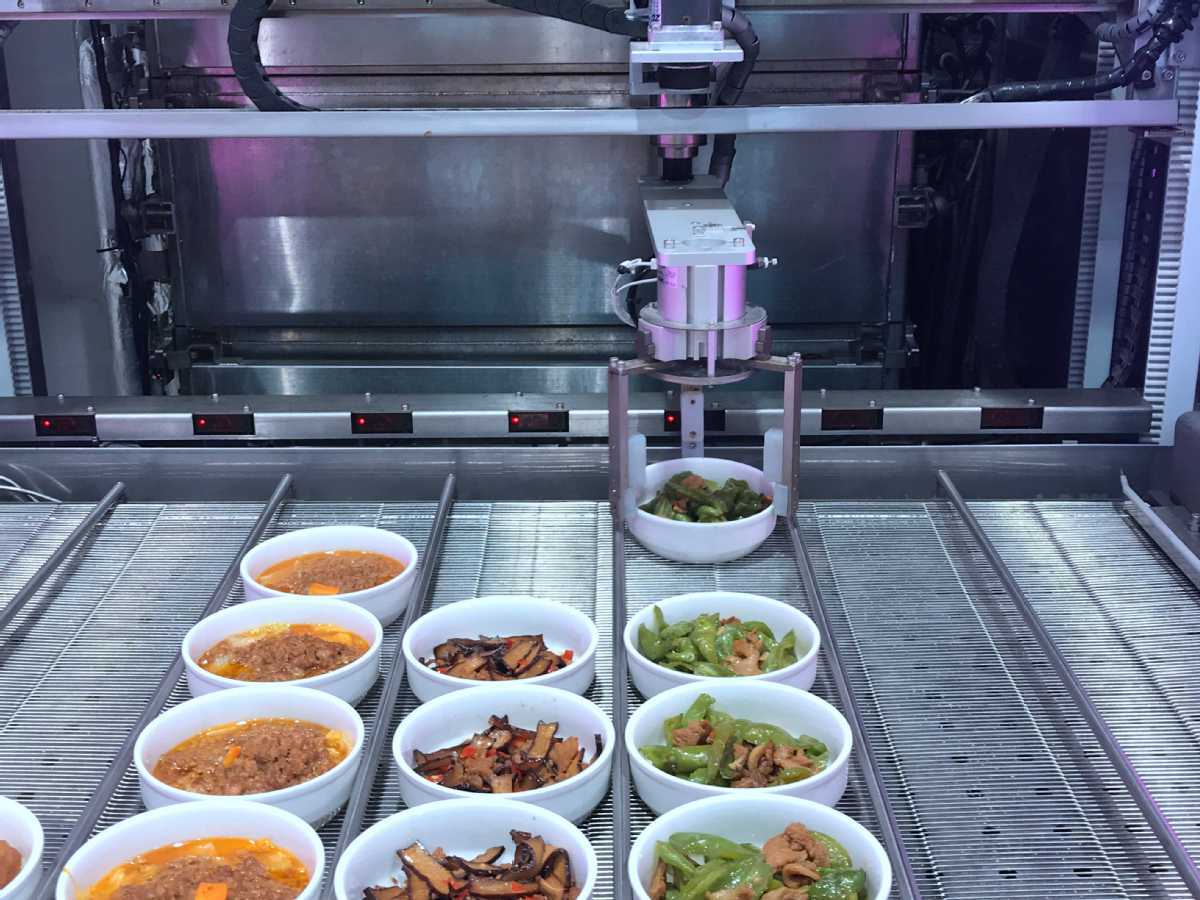 Inside a futuristic restaurant decorated in a lively pink color, "chefs" are busy preparing meals. In just a few minutes, a dish of Cantonese-style clay pot rice is ready. Nearby, American-style hamburgers are being made.
The "chefs" are capable of cooking various types of food and snacks, from Chinese food, Western food to ice cream. They can work 24 hours a day with high efficiency, and can prepare in 20 seconds for a hamburger.
Welcome to the world's first robotics restaurant complex!
The intelligent restaurant was officially launched by Chinese property developer Country Garden at its headquarters in Foshan, southern Guangdong province, on Monday.
The 2,000-square-meter restaurant, which has more than 20 kinds of self-developed catering robots, offers three types of food-Chinese food, hotpot and fast food. It can accommodate nearly 600 people at a time.
Its opening marks a milestone in Country Garden's diversification of its business as the traditional property industry continues to show signs of slowing down, especially against the backdrop of the coronavirus pandemic.
Sales value of homes in China dropped 10.6 percent on a yearly basis during the first five months of this year, according to the National Bureau of Statistics.
The property developer said last year it would develop into a high-tech integrated enterprise with diversified businesses. In addition to its core business in real estate, it said it would focus on modern agriculture and robotics, including construction robots and catering robots.
The company officially marched into the catering robotics sector by setting up Qianxi Group in May 2019. So far, 300 million yuan ($42.4 million) has been poured into the project, 80 percent of which was used for research and development and intelligent manufacturing, said Qiu Mi, assistant executive officer of Country Garden Group and general manager of Qianxi Group.
"There is huge potential in this market and we are dedicated to become a leader in this field," Qiu said.
She added that the novel coronavirus outbreak will further accelerate the development of catering robotics, as robotics restaurants reduce personal contact, which meets the current need of social distancing and is also in line with the future trend.
Tan Jianrong, an academician from the Chinese Academy of Engineering, said widespread application of catering robots will greatly promote the development of robotics industry in the country. It will also set a good example for the application of robots used in other sectors, he said.
Xiao Fei, an analyst with research firm Analysys, however, said marching into a totally different industry, especially the high-tech industry, for a traditional property developer could be a "tough road".
But it would be beneficial for their business if they could make use of high-tech to improve and upgrade their core business, she said.
Shares of Country Garden on the Hong Kong stock exchange fell by 0.9 percent to HK$9.93 ($1.28) on Monday.