Value-based buying
By RACHEL CATANACH | China Daily Global | Updated: 2020-07-29 08:11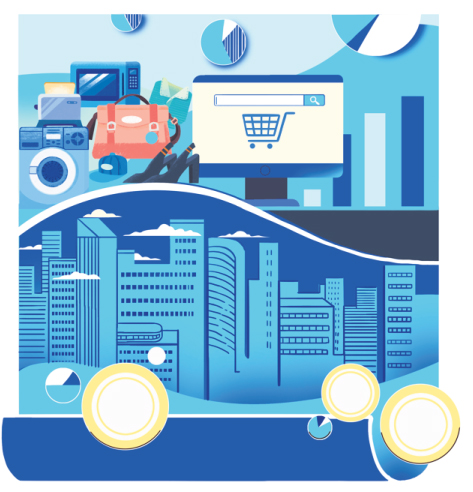 Global health crisis has prompted Chinese consumers to reconsider what is important to them
Chinese citizens are generally more optimistic about their outlook than the average global citizen according to a recent seven-market study by Fleishman Hillard's TRUE Global Intelligence practice. The report, COVID-19 Mindset: The Collision of Issues, analyzes the inflection points taking place around the world as consumers' thoughts and approaches to their health and finances shift, and expectations of their government, community, employers and each other change.
Covering China, Canada, Germany, Italy, South Korea, the United Kingdom and the United States, the study shows the novel coronavirus pandemic has changed people's outlook and how they live. Half of those surveyed predict it will take anywhere from five months to more than a year to return to normal. In China, the time is considerably shorter, with most consumers believing it will take 13 weeks till normal and only 18 percent predicting it will take longer than five months for normality to resume.
Chinese citizens are also more positive than their global counterparts that their overall quality of life, physical and mental health and financial situation will get better in the next six months. Some 55 percent of Chinese respondents believe their relationships with family and friends will improve, compared with the global average of 29 percent; 47 percent expect career advancement in the near future versus 17 percent globally; and around half also expect safety to improve, compared to the global average of 21 percent.
However, despite this optimism, a significant 93 percent of those surveyed in China say the pandemic has changed how they see the world. They are bracing for lasting impact and don't expect to forget the pandemic any time soon. The pandemic has irrevocably altered their beliefs and priorities, and what they value.
This shift is causing them to seek more meaningful relationships and activities. Shopping, for example, is no longer an endgame in itself. While China has achieved better than expected GDP growth in Q2, Chinese consumers are exhibiting more cautious behavior than their global counterparts when it comes to consumption. Spending is being evaluated carefully with 57 percent saying they would delay big purchases (global 44 percent) in the next 12 months and 82 percent have ceased purchasing non-essential items and will continue to do so post-pandemic (global 64 percent).Almost 90 percent of Chinese respondents said the products and services they once thought were important have changed, with some 57 percent stating they will spend money on experiences rather than products.
Chinese people are also recalibrating their financial health, with 67 percent saying they will save more and 70 percent committed to financial planning (global 52 percent) in the next 12 months. In addition, they are delaying non-essential healthcare with over half of consumers saying they will postpone routine doctor's visits or elective procedures and 52 percent intending to make telemedicine or telehealth appointments.
So what does this mean for business in China? In essence, the collision of issues has increased scrutiny of companies, brands and leaders.
First, Chinese consumers more strongly believe than their global counterparts that shared responsibility, shared innovation and collaboration, and shared values are the expected path companies should take to solve societal issues.
The actions a company took during the height of the pandemic matter. Some 87 percent of Chinese consumers will look into a company's behavior during the pandemic before purchasing their product (global 63 percent) and 87 percent will have a deeper relationship with brands based on how they behaved during the pandemic (global 58 percent).
Second, Chinese consumers expect companies to take a stand on issues that are important to them. Just as it has risen to the fore elsewhere, discrimination and equality is the No 1 issue at 83 percent, and 58 percent of Chinese consumers expect companies to take a stand on it. Other important issues include protecting the environment and public health risks. Companies who sideline these issues do so at their peril.
Third, consumers and employees also expect CEOs to rethink more than just financial expectations and immediate challenges. They are looking for acknowledgment of their challenges rather than overly optimistic promises of an undefined future. And they are expecting a new, values-led conversation between brands and consumers, as well as employers and employees moving forward.
For international companies doing business in China, the stakes are even higher. Consumers are taking a hard look at which brands they support and there is an emerging desire for products made locally.
Consumers are pre-disposed to choosing local when they can or when they believe the value they receive from foreign products is not commensurately higher. While foreign luxury goods and food and beverages, such as meat and milk, are still finding favor, consumers are also expecting higher levels of service, a quality, experience-based relationship and supply chain transparency.
Finally, Chinese consumers and employees are surrounded by uncertainty. Only 38 percent of them believe a vaccine against the virus will mark the end of the pandemic, indicating that there may not be a universal solution for every consumer. They are watching and want organizations to do everything they can to support their workforce and contribute to a safer world. At the very least, they expect companies to deliver honest and simple information about the company's plan to provide customers with safe conditions in their public spaces. But they also want companies to develop innovative new ways to deliver products and services that increase convenience while maintaining health and safety measures.
It's a challenging time for companies, but those who get it right-who really build trust by being committed to doing the right thing and putting people first-will win customers as consumers seek to regain a sense of control.
The author is a senior partner and a president of Fleishman Hillard Greater China. The author contributed this article to China Watch, a think tank powered by China Daily. The views do not necessarily reflect those of China Daily.