Zeng Fanzhi piece fetches $23.3m, a record high for contemporary art
By Fang Aiqing | chinadaily.com.cn | Updated: 2020-08-20 14:36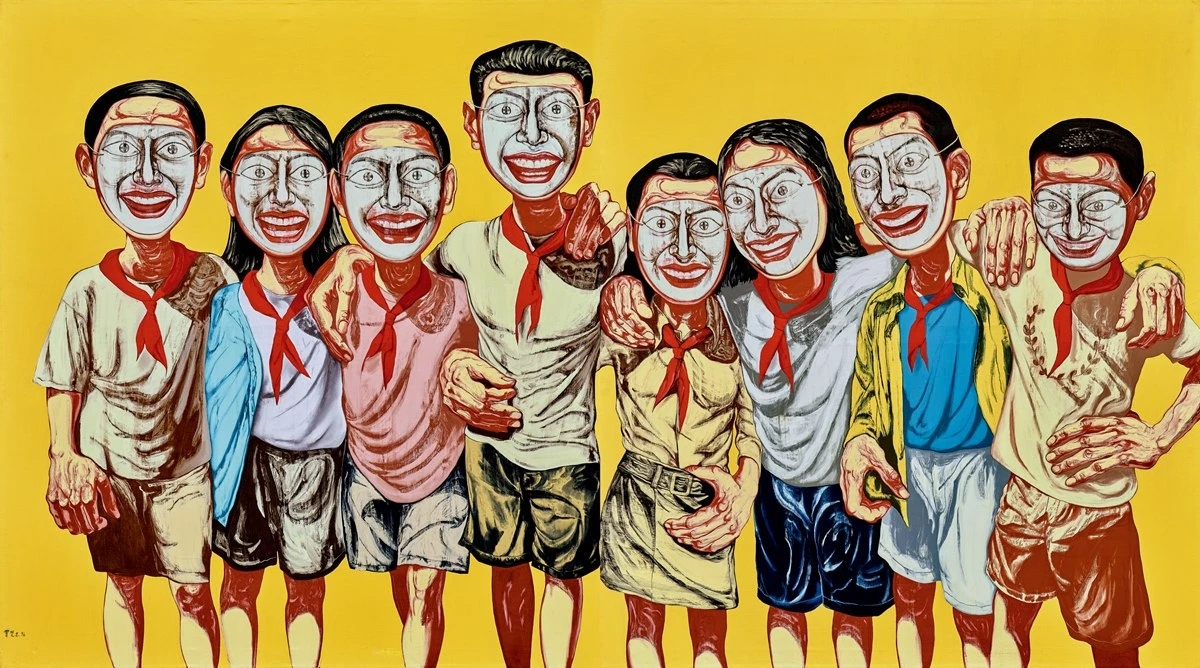 Contemporary artist Zeng Fanzhi's Mask Series 1996 No.6 was auctioned off for 161 million yuan ($23.3 million) in Beijing on Tuesday, the highest auction price among Chinese contemporary artworks.
The price, set at the modern and contemporary art evening sale of Yongle Auction, exceeded that of the artist's The Last Supper sold in 2013 for 180 million HKD (around 140 million yuan at the time) at Sotheby's Hong Kong, also representing a record price for the artist.
Mask Series 1996 No.6 is a rare group portrait among the artist's well-known Mask series. On a pure yellow background, five men and three women line up, dressed in trendy adult clothes, with each wearing a red scarf— a norm for pupils on the Chinese mainland.
Arm in arm, they are stepping forward, with similar eyes and smiles on their white masks. Their large hands are full of blood vessels and have striking joints.
Previously, the piece was sold at more than 70 million HKD ($9 million) in 2008 and 105 million HKD in 2017.
Zeng, born in 1964, came from Wuhan to Beijing in the 1990s. His representative series of paintings include the Meat series and Hospital Triptychs, the Mask and Behind the Mask series and the Landscapes series and also a group of the artist's self-portraits.
"I use the techniques of exaggeration and transformation to emphasize the hypocrisy hidden behind the overt intimacy between people and in their laughter. The group photo-like composition, the dramatic scene and the masks of various expressions people wear on their faces have created a stage effect that is close to histrionics," Zeng once said about his Mask series.
The series of paintings are based on the artist's reaction to life in metropolitan areas — interaction and communication is indispensable in modern societies, but people tend to behave in a stylized manner instead of showing their real inner world.
"Nowadays the collectors tend to be more rational and aware of the classification of the art pieces they are bidding for. Their collection choices are more systematic and meticulous now," says Li Xiaowen, director of the modern and contemporary art department of the auction house that held the sales themed Le Prelude this week.
According to Li, a growing number of collectors following the context of key art history is emerging at auction scenes of contemporary Chinese modern art.