EU trade chief quits over controversy
By CHEN WEIHUA in Brussels | China Daily | Updated: 2020-08-28 07:36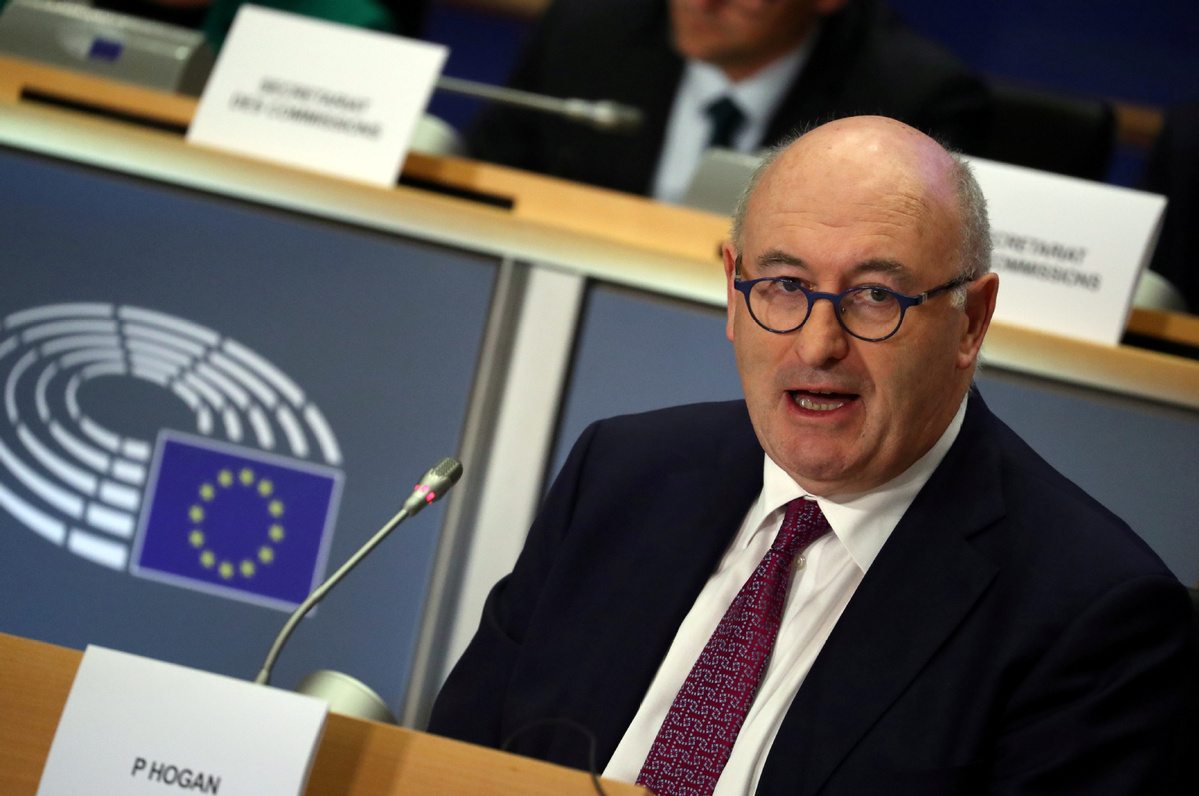 Irish Eurocrat Phil Hogan, a key figure in Brexit talks, resigned on Wednesday as the European trade commissioner after coming under mounting pressure over breaches of novel coronavirus restrictions during a golfing trip in his homeland last week.
His departure leaves an important vacancy as the European Union conducts intensive trade and investment talks with China, the United States and the United Kingdom following Brexit.
"It was becoming increasingly clear that the controversy concerning my recent visit to Ireland was becoming a distraction from my work as an EU Commissioner and would undermine my work in the key months ahead," Hogan said in a statement on Wednesday after submitting his resignation to European Commission President Ursula von der Leyen. "I deeply regret that my trip to Ireland-the country that I have been so proud to represent as a public servant for most of my adult life-caused such concern, unease and upset."
In a statement, von der Leyen said she respects the decision, saying she is "very grateful to him for his tireless work" as a trade commissioner since December 2019 and for his successful term as commissioner in charge of agriculture in the previous commission from 2014.
Hogan, 60, made headlines in the past days after reports suggested that he had traveled across Ireland without honoring the local COVID-19 restrictions. The focus has been on his attendance of a golf society dinner in Galway, Ireland, on Aug 19, with more than 80 people.
Separately, Irish Prime Minister Michael Martin was forced to defend his government after it was revealed that several senior members of his Fianna Fail party were among the attendees.
Several attendees, including the Minister for Agriculture, Food and Marine Dara Calleary, have already resigned from their posts.
On Tuesday, Hogan had tried to ease public anger and keep his job by publishing a timeline of his activities in Ireland from July 31 to Aug 22. But Irish and European Commission leaders appeared not satisfied with his account.
Ireland's government was on Thursday asked to propose candidates to replace Hogan. Von der Leyen said executive vice-president Valdis Dombrovskis would take over Hogan's duties in the interim.
Irish Foreign Minister and Defense Minister Simon Coveney and former EU ambassador to the US David O'Sullivan, also Irish, are both considered possible candidates, according to news reports.
Politico, citing two EU officials, said the nomination could trigger a broader reshuffle in the current European Commission with the top trade job going to another country, such as Latvia's Valdis Dombrovskis, who now serves as the commission's executive vice-president.
Hogan was briefly considered a contender for the position of director-general of the World Trade Organization after Roberto Azevedo, a Brazilian career diplomat, unexpectedly resigned in May. But Hogan ended his bid on June 29.