Long March rocket sends 9 satellites into orbit from sea
By Zhao Lei on Board Zhonghua Fuxing in Yellow Sea | China Daily | Updated: 2020-09-16 07:23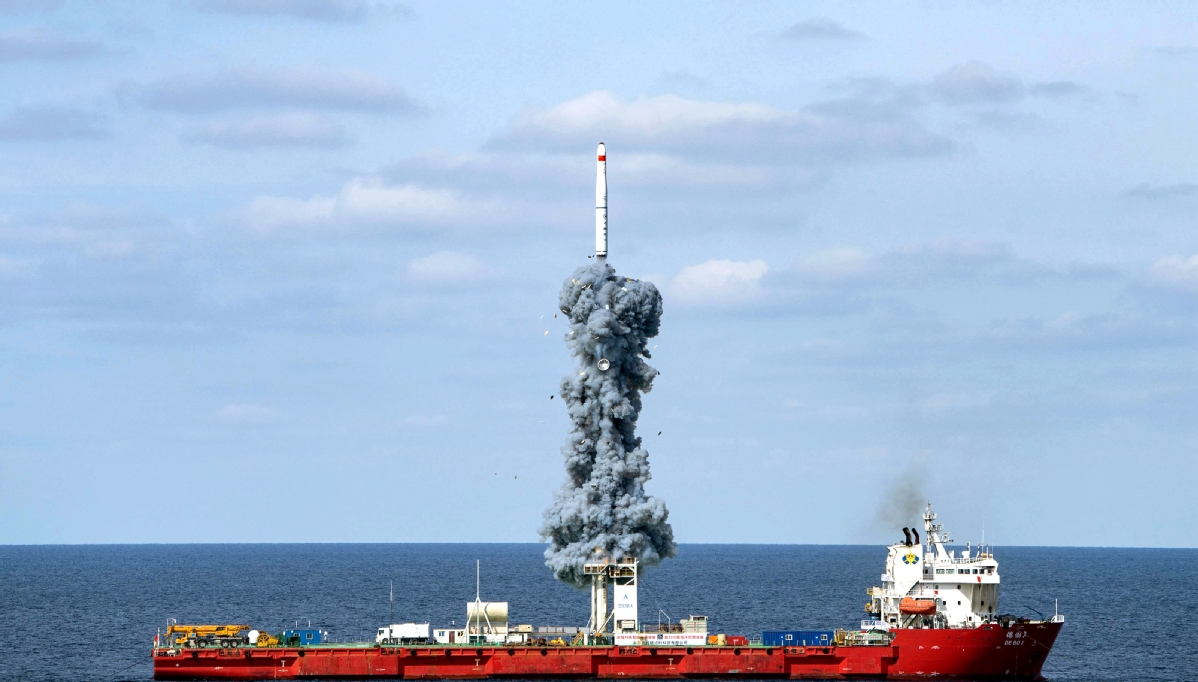 China launched nine satellites on Tuesday with a Long March 11 solid-propellant carrier rocket that blasted off from a ship in the Yellow Sea, achieving the country's first commercial launch at sea.
The Long March 11-HY2-the 10th in the Long March 11 family-roared to life at 9:23 am from the Debo 3, a self-propelled deck barge that was modified for the mission, and soon thrust into the sky.
After flying about 13 minutes, the rocket deployed nine Jilin 1 high-resolution Earth-observation satellites-three to take video footage and six to take photos-into a sun-synchronous orbit 535 kilometers above the ground.
Developed by Changguang Satellite Technology in Changchun, Jilin province, these satellites, each weighing about 42 kilograms, are tasked with providing remote-sensing products to users in industries such as agriculture, forestry, land resources and environmental protection.
The Debo 3 belongs to the Yantai Salvage Bureau. It is 159.6 meters long and 38.8 meters wide and has a carrying capacity of 20,500 metric tons. The ship is electrically propelled with a top speed of 12 knots (22.2km/h).
The entire flight was controlled and monitored by engineers on board a support ship anchored several kilometers from the Debo 3. Spectators, including reporters and invited guests, were on board a nearby passenger liner.
The Long March 11's first launch from a ship took place in the Yellow Sea in June 2019 and put seven satellites into orbit. It was China's first space mission launched at sea.
That mission was more experimental than commercial as its major task was to test and verify seaborne launch technologies and equipment rather than serve a commercial purpose, said Jin Xin, the rocket's deputy project manager.
Therefore, Tuesday's launch should be seen as the rocket's, and China's, first sea-based commercial flight operation, he noted.
In addition to its commercial purpose, the mission also helped to optimize seaborne launch procedures and improve the safety and reliability of those operations, paving the way for future sea-based launches that will be conducted frequently, Jin said.
Peng Kunya, the rocket's chief designer, said the sea area used in Tuesday's launch can be utilized in future missions, adding that the advantages of a sea-based launch-higher mission efficiency, flexibility and safety-will attract more clients to this method.
The Long March 11, designed and built by the China Academy of Launch Vehicle Technology, is the only solid-fuel rocket in the Long March family, the pillar of China's space programs.
The model is 20.8 meters long, 2 meters in diameter and has a liftoff weight of 58 tons. It is capable of sending satellites into low-Earth or sun-synchronous orbit, according to the academy.
Its first flight was in September 2015 from Jiuquan Satellite Launch Center in northwestern China's Gobi Desert.
The rocket has so far performed 10 launches-eight from launch centers on land and two from ships-that successfully placed 51 satellites into orbit.
Designers have started to develop an upgraded variant of the Long March 11, which will be more powerful than the existing model, project managers said.
The new type will be able to send a 2-ton satellite into low orbit. It is expected to perform its first launch at sea around 2022, they said.
China is now the only nation that is independently able to conduct sea-based space launches.