Snoopy comes to Shanghai
By Zhang Kun | China Daily | Updated: 2020-09-25 07:46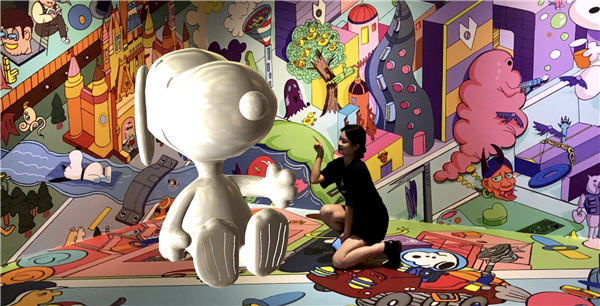 An exhibition marks the 70th anniversary of the beloved cartoon character, Zhang Kun reports.
Snoopy, the dog from Peanuts, the comic series created by US artist Charles Schulz, has taken the spotlight of an ongoing exhibition at the Museum of Contemporary Art in Shanghai.
The exhibition started on Sept 10 and will run until Jan 4, 2021.
This is the first time that Peanuts has collaborated with an art museum to put up a large-scale exhibition since the Snoopy in Fashion exhibition in the Louvre in Paris in 1999, according to Miriam Sun, executive director of MoCA Shanghai. The exhibition also marks the seventh Animamix Biennial at the museum, which is located in People's Park in downtown Shanghai.
"In the MoCA Animamix Biennial, apart from exhibiting the works featuring classic Peanuts characters, MoCA Shanghai has also invited 20 artists and groups from China to collaborate with Peanuts and create exclusive crossover artworks for the occasion," Sun told the media on the opening day.
Starting with a scroll measuring 18 meters long and 10 meters high by Wen Na, the exhibition takes visitors on a journey that includes the First Encounter series painted by Hong Kong artist and toy designer Michael Lau, a writing class designed by Xu Min and a new media installation by Wu Jian'an titled I'm the First Beagle Landing on the Moon.
According to Sun, the exhibition attempts to eliminate the boundaries between art and animation, fashion and tradition, technology and humanity.
"The exhibition combines the virtual with reality perfectly through the most advanced AR technology, echoing the narrative theme 'what a wonderful day'," she says.
Schulz (1922-2000) began to publish his cartoon series about Snoopy and his friends in 1950, when the Peanuts comic strip debuted in seven newspapers. Schulz wrote and drew every strip from its inception to the very end on Feb 13, 2000, when the last strip ran. Schulz died of a heart attack the previous day.