Pride of place
By Yuan Shenggao | China Daily | Updated: 2020-09-27 14:02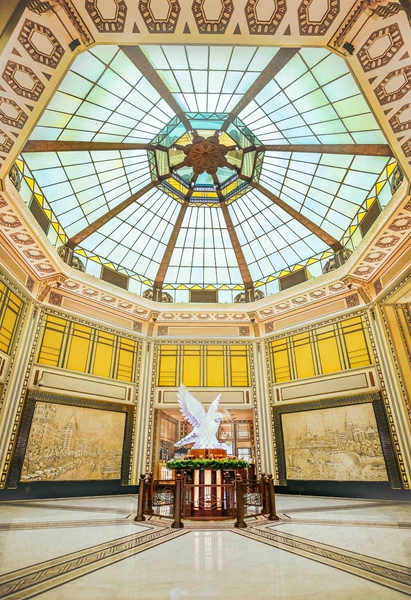 Shanghai's DNA is inextricably entwined with Nanjing Road and the Peace Hotel, Yuan Shenggao reports.
With the transformation of Nanjing Road to a full pedestrian walkway, the iconic Fairmont Peace Hotel, a cherished landmark for almost a century with its green copper triangular roof, is ready to welcome more guests to experience the glamor and history of Shanghai.
Earlier this month, the world-famous Nanjing Road officially opened its eastern section transforming the last 500 meter stretch purely for pedestrians to stroll and enjoy this stunning thoroughfare.
At this end of Nanjing Road and a stone's throw from the Bund, sits Fairmont Peace Hotel-Shanghai's legendary hotel, a global icon that combines historical grandeur with modern amenities. It is expected to draw even more attention and patronage from the seemingly endless hordes of visitors and tourists.
"We are truly blessed with this amazing location, right on the Bund and on Nanjing Road" said George Wee, general manager of Fairmont Peace Hotel and Area General Manager of Accor China. "Since 1929,Fairmont Peace Hotel boasts a history that overshadows any other in Asia and a slice through time witnessing the growth of Shanghai to the great city that it is today."